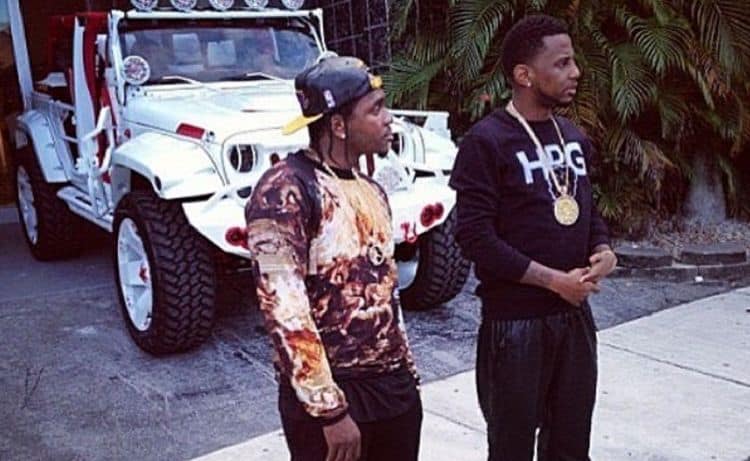 Born John David Jackson, Fabolous became well-known with the release of his debut single "Can't Deny It" in 2001. The New York based rapper quickly captivated fans all over the world with his smooth style and clever word play. In the almost 20 years since his first project, Fab has managed to stay relevant and his name has often been brought up in conversations about the best rappers alive. Despite being such a popular figure in the hip-hop community, there are still many things about the rapper1 that the average listener doesn't know. Keep reading for 10 things you didn't know about Fabolous.
1. He Was Shot
Getting shot is often seen as a badge of honor in hip-hop. Sadly, though, gun violence has costs lots of rappers their careers, and even worse, their lives. Although Fab's brush with a bullet didn't cost him his life, it still left him in the hospital for eight days and actually resulted in him being arrested. In 2006, Fabolous was shot in the leg while leaving a New York City nightclub. After the shooting, Fabolous several members of his team were arrested after an illegal firearm was found in their position during a traffic stop.
2. He Made His Acting Debut In Scary Movie 4
Musicians crossing over into the acting world has become fairly common. In fact, some musicians have found so much success in Hollywood that they're now more well-known for their acting than their songs. That may not be the case for Fabolous, but at least he can say he's earned an acting credit. Even if you consider yourself a pretty big Fabolous fan, you may not know that he made in appearance in a film. In 2006, he played a gunman in Scary Movie 4. The appearance was very brief and it remains his only acting job to date.
3. He Spent $40,000 To Get His Teeth Fixed
Fab fans from back in the day may remember the rapper's notorious chipped tooth. The partially broken front tooth was such a big part of his identity that he even rapped about it in some of his early songs. However, he eventually made it clear that his chipped tooth wasn't here to stay. In 2001, Fab told Angie Martinez that he planned to get dental work done eventually. The damaged tooth was more than a cosmetic issue for the rapper. The tooth, along with several others, were beginning to decay. In 2017, Fabolous decided to drop $40,000 on a dental makeover. Not only did he get the chipped tooth taken care of, he also got a full set of veneers on the top row.
4. He Was Indicted By A Grand Jury On Domestic Violence Charges
It's no secret that there have been rumors of domestic violence between Fabolous and his long time girlfriend, Emily Bustamante. But there's actually more to these rumors than most people realize. In 2018, Fabolous was indicted by a grand jury on four felony charges. The charges stemmed from an incident that took place in March of 2018 when reports began to circular that an argument between Fabolous and Emily resulted in him punching her in the face and knocking out two of her teeth. Fabolous ended up taking a plea deal that required him to enroll in an intervention program in lieu of jail time.
5. He Is Half Dominican
When you think of rappers of latin descent, Fabolous may not come to mind. That's because his Dominican heritage isn't mentioned very often. Although there isn't much information out there on Fabolous' father, we do know that he is Dominican. Fabolous may not be very vocal about his heritage but he has been seen at the Dominican parade in New York City.
6. He Has His Own Record Label
Fabolous signed with DJ Clue's label, Desert Storm, at the beginning of his career. His first 5 albums were released through the label. However, Fabolous also started a label of his own in 2006. Not much is known about the label and the roster only boasts a handful of artists including Fabolous and Red Cafe.
7. His Debut Album Was Released On 9/11
September 11th, 2001 marks the day of the most deadly terrorist attack in history. Thousands of people in Fabolous' home base, New York City, were devastated by the attacks. This was also the day that Fabolous released his first album, Ghetto Fabolous. The album was initially met with mixed reviews from critics, but it quickly became a commercial success among fans. It reached number 4 on the Billboard 200 and went on to sell more than 1.05 million copies. Ghetto Fabolous was officially certified platinum by the Recording Industry Association of America in 2003.
8. He Has An Unreleased Collaboration With Lil Wayne
When rappers are entering the game, they often hope to do features with established artists as a way to get their music in front of more listeners. At the beginning of his career, Fabolous wanted to team up with Lil Wayne for a song on Ghetto Fabolous. According to Fabolous, he and record executive, Steve Stout, paid Wayne $100,000 dollars and four bottles of champagne for a feature. Wayne agreed to do the song and recorded his verse, but the song was never released.
9. He Wants To Have More Kids
Fabolous is the proud father of two boys. He has also helped his girlfriend, Emily, raise her daughter, Taina Williams. He may be making plans to expand his family, though. In an Instagram post, Fab wrote, "Always only wanted boys.. But recently talked about having a girl & now i can't get it off my mind…All my friends who have daughters tell me that daughter LOVE is different…Do I need a baby girl in my Life?"
10. The Beat For His Hit Song "Make Me Better" Was Originally For Eve
The 2007 single "Make Me Better" is one of Fabolous' most popular songs. However, the beat for the song was originally intended for fellow rapper, Eve for a song called "Nothing to Say". During a visit to the Drink Champs podcast, Fabolous said that he and Eve went to dinner to discuss the song and she said he could have the beat.
Tell us what's wrong with this post? How could we improve it? :)
Let us improve this post!