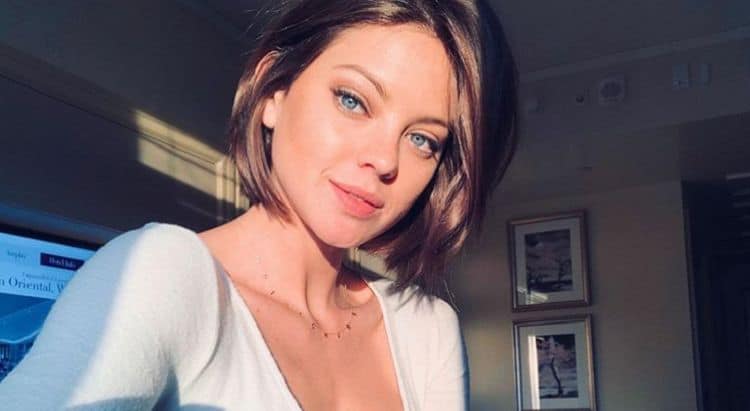 Amanda Pacheco is one person who takes "closed book" to a whole new level. The model keeps her personal and professional life details close to her chest. Now that she is dating a renowned actor, people are curious to know more about her. Despite her appreciation of privacy, we have managed to dig up interesting facts about Amanda, including information regarding her boyfriend, career, and personal life. Here is everything we learned about her.
1. Her mother succumbed to cancer
Cancer has deprived many families of the blessing of having all the members alive. Since it does not discriminate against race or status, celebrity families have not been spared. Amanda is among the many celebrities who have lost someone they hold dear to ovarian cancer. Her mother, Tracy, died from ovarian cancer, but she clings on to the fondest memories they shared. Pierce Brosnan also lost his daughter Charlotte to ovarian cancer after fighting it for three years. As if a hereditary curse, Charlotte's mother and grandmother also succumbed to ovarian cancer.
2. She fights for ovarian cancer awareness
Once someone you love is plucked from you by a disease, you do everything you can to ensure that you do not lose anyone else. After her mother's death, Amanda decided to spread the word about ovarian cancer. She went on Instagram to urge people to register and support her in honoring her mother by running for ovarian cancer. Amanda provided the link to which supporters could register, and her team's name was Tracy Raises Awareness! Can You? (T.R.A! C.Y?)
3. She has no problem with nudity
Of course, since Amanda decided to become a model, she must be very comfortable with her body. On her Instagram, Amanda shares photos of herself topless, although she hides the front. Posing nude has always been so fashionable for models. In 1985, only a few women were yet to share their nude pictures with the rest of the world. Ironically, Chicago Tribune revealed that if a woman who had not shared her nudes were found, she would be offered a $1 million to pose nude for a magazine.
4. Her boyfriend has a long list of girlfriends
Amanda's boyfriend is Wilmer Valderrama, and they have been together since April 2019. Wilmer has a long list of girlfriends, and he was once involved with Lindsay Lohan, and the relationship lasted for less than a year. Lindsay has always been in the media for the wrong reasons; if it is not drugs, then it is her lesbian relationship with Samantha Ronson. Wilmer also dated Minka Kelly, who did not bother hiding the fact that she had an abortion, and it was the best decision ever. His other ex is Mandy Moore, and the funny thing is that Minka and Mandy are friends. As if that trail is not enough, his most recent ex is Demi Lovato, who almost died from a drug overdose.
5. She loves nature
Amanda does not hide how much she enjoys nature by describing herself as belonging high in the trees or deep in the sea. Her love for sunflowers is also evident with the few pictures she has posted on her Instagram holding a sunflower and standing in a sunflower garden. There is one photo in which Amanda is lying on the grass with the Eiffel Tower in the background. You also cannot miss noticing how she enjoys the sea waters by sitting and lying in the water.
6. Her boyfriend loves dishing out about his love life
Dating should not be like being grilled to join the CIA. Still, one should ensure that the person they are dating is worth investing their time in hopes of a future together. Amanda seems hopelessly in love with Wilmer, but the man can run his mouth. In 2006, Wilmer went public with the intimate details of his life. He revealed that he dated Mandy Moore and broke her virginity, which Mandy later said was a lie. Wilmer also said that Ashlee Simpson is a screamer while Lindsay loves to wax. He later regretted all that he had revealed. Amanda must be careful lest he has another slip of the tongue and divulges all their bedroom affairs.
7. She is a divemaster
Besides being a model, Amanda is a divemaster, too, which is no surprise given how much she is passionate about the sea. According to Distractify, the model loves to dive, snorkel, fish, and visit tropical places to enjoy the sceneries of exotic species. She joins the list of other famous models like Jessica Alba, Cindy Crawford, and Kate Moss, who are also great scuba divers. Were Amanda interested in acting, the skill might come in handy as it did for Jessica Alba in "The New Adventures of Flipper."
8. She likes to keep her life under wraps
Amanda Pacheco cherishes her private life, and she cannot have it any other way. As much as the internet never forgets, it looks like it has nothing to remember about Amanda. Amanda barely talks about her family, so it is hard to know where exactly she grew up or how many siblings she have. She even does not talk about her education or past relationships, but with Wilmer as her boyfriend, we can be sure that the privacy levels will go down.
9. Her net worth
Modeling has become a lucrative career with Kendall Jenner taking home a figure as high as $22.5 million. Many women can afford lavish lives, and Slavica Ecclestone stands as the wealthiest model in the world with a net worth of $1.2 billion. Amanda is yet to become as high-profile as Slavica or Kendall, but she still has an impressive amount. Her net worth is currently $500,000, which barely comes close to her peers like Gigi and Bella Hadid, who are each worth at least $25 million.
10. Her modeling career
The low net worth may deceive you into thinking it is due to a lack of high-profile clients. However, Amanda has worked with several reputable brands such as Goorin Bros and Beyond the Beach. Further, she knows how to ensure she gets her effort's worth by signing up with leading model agencies such as JE Model Management.