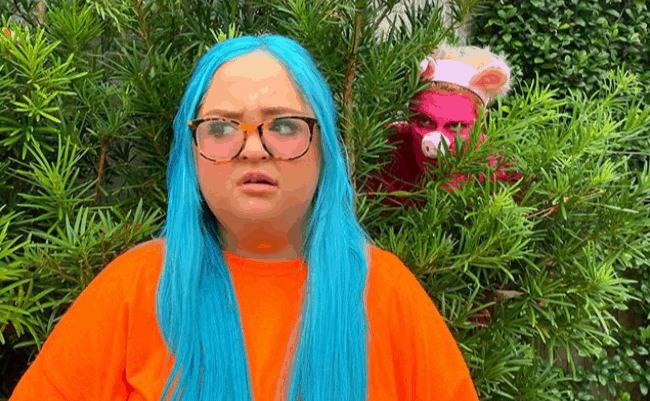 Today the social media is loaded with internet sensations and it seems like everyone is riding that wave and trying to be internet celebrities. Luckily today the internet is not just another place for you to have fun and waste time. With the advancement of technology and more sites coming up, people seem to have cracked the code. You can now earn money and hence put that huge chunk of time you spend online to good use. One such brainy youngster is Lauren Godwin. Godwin has risen over the years and become such a huge star with her various videos and parodies. She has managed to make a name out of herself with the use of various social media sites.
Lauren Godwin's Bio
Lauren Godwin was born and raised in Houston Texas on February 21 2000 to Christopher and D'Ann Godwin. Godwin gained her fame from putting up parodies and lip-syncs to famous songs through the app Musical.ly which is nowadays called Tik Tok. Godwin discovered Musical.ly through a friend online. When talking to Forbes, Godwin said that she hardly had any friends in high school and most of those she called friends were virtual. She had various accounts online including fan accounts for various stars including even YouTube stars. That was when she was notified of the app (Musical.ly) and as evident the rest is history.
Here are 10 things you didn't know about Lauren Godwin
1. She is an only child
Her parents D'ann and Christopher were destined with the bright and bubbly star Godwin. She has no siblings. They initially wanted to name her Mackenzie but decided against it and finally decided to go with the safe name Lauren to which she is called now.
2. She is eccentric
It is almost difficult to tell the exact hair color of this online personality as she is constantly changing it. Her eccentric and bubbly sense of style speaks more of her brand and makes her more relatable with her career and videos. Even though Godwin changes her hair constantly, her most preferable looks are either the blonde or purple looks which she wears most of the time.
3. Huge social media presence
In today's world, you don't need to be popular in real life. Most teenagers want online popularity and followers and the 19 year old seems to have cracked the code. Godwin has managed to amass a large following on social media with all of her accounts boasting of huge numbers. As of now, Godwin runs a YouTube account, a Twitter account, an Instagram account and Tik Tok account which are all self-named. Her YouTube channel has close to 890k+ subscribers while her instagram account indicates a 250k following. Her Tik Tok account boasts of over 4 million fans as of 2019.
4. She has a noticeable scar on her forehead
Part of the process of growing up is falling and getting injured, sometimes even to the extent that we get a permanent mark of our childhoods. Godwin also has her own reminder and it is present on her forehead. While she was training with her dad on how to ride a bike she hit her head on the height limiter and got a cut on her forehead which is quite noticeable.
5. Tik Tok sensation
It is very difficult to gain many likes on social media today as more and more content is created on a daily basis and if you don't step up your game, you could easily be forgotten the next day. Not for Lauren though. She is constantly creating new content daily and keeping her fans entertained. A video she posted in 2017 on the app Tik Tok was really liked, so much so that it crossed a billion hearts on the platform when it was still called Musical.ly.
6. Income
As mentioned above, people are constantly connecting their social media use and presence to their bank accounts and are looking for a way to get paid. Recently the story of a 6 year old boy who became the highest paid You Tuber in 2019 went viral. Godwin also uses her account to earn money. She gets endorsement from brands such as Forever 21 and Fashion Nova who seek to utilize her ever growing platform to expose and grow their own brands. Tyler Fansworth spoke to NBC News and provided the numbers for social media, especially Tik Tok payouts. He stated that with an approximate of 5 million followers the payout for a sponsored post ranges from $5000 to around $8000. These are some pretty impressive numbers especially for a 19 year old.
7. She is an award nominee
In 2016, she was nominated for the Muser of the Year award at the Shorty Awards that year.
8. Her dating life
Godwin likes to keep details about her personal life private but it is rumored that she and fellow Tik Tok star Sebastian Bails have been dating for quite a while. However nothing is confirmed yet.
9. Her guilty pleasure is playing dress up
According to Healthy Celeb, Lauren Godwin likes dressing up in various costumes and owns a total collection of 45 wigs. Most of them are adaptations and imitations of several of her favorite characters and celebrities such as Elvis Presley and Elsa who is a cartoon character from frozen
10. She is an actress
Lauren made he debut as an actress on the web series Misshaps in 2017. Her other notable works are on Follow Me in 2017 and Lights, Camera, Action which is also a web series in 2019.
Conclusion
Like everything else in life, the internet has its positive and negative side. Be that as it may, the new crop of generation has proved that it is actually easy to turn the negative use of social media into a positive effect including generating income and providing teaching tools for others. You only need to log into your account and let the magic happen. Lauren Godwin is a fast rising star and she can only go so far as she is already a sought after individual in the social media world.
Tell us what's wrong with this post? How could we improve it? :)
Let us improve this post!