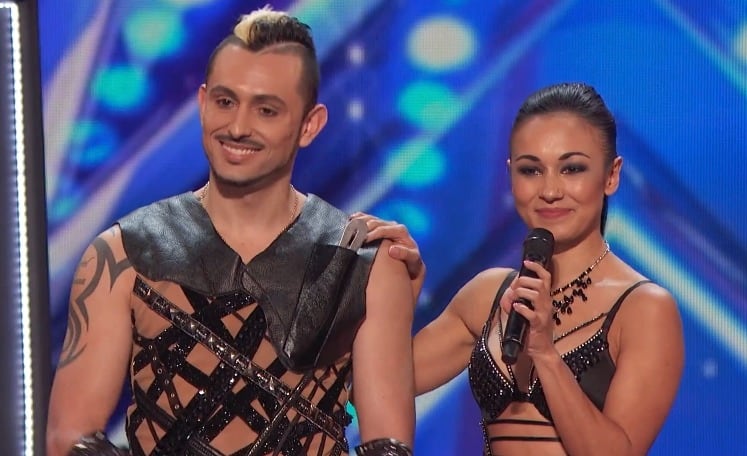 America's Got Talent is a well known and highly popular reality TV show where a variety of people with various talents ranging from musical skills like singing to other talents where people can dance or juggle, or magicians or illusionists can show their talents off. Ever since it's debut in 2008, America's Got Talent has given opportunities for anyone from people with incredible talents to amateurs or unknown performers trying to grow as people and many have succeeded and silenced criticisms from their peers. In Season 11, a new act debuted. Knife-throwing has been a popular, and dangerous, talent shown across the world for centuries. The duo of Alfredo & Anna Silva appeared, but they were eliminated in the semifinals.
Here are 10 facts about Deadly games.
They met eight years before their America's Got Talent audition. They are a couple from Las Vegas, Nevada. They have been married two years before their audition, and both of them have their own individual talents. Alfredo has studied magic skills, juggling, and he has even dabbled with the Globe of Death before he fell in love with something more lethal – knife throwing, an ancient art spanning generations. Anna is a skilled and professional ballerina, but she is also a skilled choreographer. It was in 2009 when Anna and Alfredo agreed to combine their talents, and Deadly Games was the result.
Deadly Games was sent to the Judge Cuts during their audition. It took place in Episode 1104. They won when Alfredo threw knives at where Anna was. They stuck in the wall behind her while she stood still before she moved – she would lean herself backwards. She moved from one side to the next with her back facing her husband while he threw knives.
Alfredo comes from a circus background. He is the sixth generation of his family. He grew up watching his family performing. He says they are his heroes, and they are also his inspiration and the reason why he has worked hard to reach where he is now. He began mimicking the circus performers around him, performing numerous acts in the circus from the trampoline, the flying trapeze, the whip act… but he had a passion for the most death-defying stunts. He began performing the Globe of Death – an act where the stunt riders would ride motorbikes into a mesh steel globe looped vertically and horizontally at speeds reaching – and exceeding – 80 km/h – at the age of nine years old. Alfredo jokes he was brainwashed to be attracted to danger after seeing his family perform similar acts.
Alfredo suffered an accident in Denmark. He crashed during the Globe of Death act, and the other motorbike fell right on his head. Alfredo was rushed to the hospital, but strangely he was back performing the next day. He claims that if you develop any kind of fear it will affect you for the rest of your life. He says you need to be in control, to learn everything from each experience – no matter how good or bad – and not to get too attached to the bad things.
Anna has been dancing since she was four years old. When they met, her stage presence made her the logical choice to be Alfredo's partner. In the magic shows, Alfredo performed illusions where he made her disappear, folded her into a very small box. It was highly well received even before the audition on America's Got Talent. They have taken their Globe of Death act to Australia. Anna stood in the middle and others would ride their motorbikes around her, and she was comfortable with the danger around her.
On America's Got Talent during the Judge Cuts, Alfredo performed by throwing knives at the balloons held in Anna's hands, while one was held in her mouth. If you have ever watched a knife thrower throw their blades at someone being turned around and around on a wheel, then you wouldn't have been surprised seeing Anna being spun around and Alfredo throwing knives at her. Heidi Klum loved the act and gave them standing applause. They were such strong performers they were moved into the Quarterfinals rather than Gary Sladek.
Alfredo and Anna have three kids – two born from Alfredo's previous relationship – while Anna and Alfredo have a daughter. Being a parent has been a life-changer for the couple, and it has made them focus on life, and give them the drive to focus on where they wish to head to.
The couple has had accidents with their knife-throwing. Once when they were practicing – they were still new to the double act and lacked experience at the time – Anna was holding a balloon for Alfredo to pop with a knife, but it hit the board and didn't pop the balloon when it touched it. He threw yet another knife, and the same thing happened. The third try was when it happened. The next knife hit the other one, and it went and hit Anna right in the nose. Alfredo was terrified when he saw the blood gush out of her nose.
In 2015 the couple received an offer from Franco Dragone, a Belgian theater director. He invited Alfredo to work in a show in Macau even though the place was not "on the map" as he puts it. The show was called the Taboo at City of Dreams. It was a great opportunity for Alfredo to return to the acts he had performed as a child. He enjoyed being given a chance to once more juggle and be a clown.
Deadly Games returned for The Champions where their act consisted of performing a knife-throwing act in a technology laboratory. The act itself included Alfredo throwing his knives straight at Anna while set inside a rotating frame, shattering a Martini glass, aiming at a target with a crossbow, taking a video of himself on a mobile phone belonging to Heidi Klum. The act brought them standing ovation, and they entered the final.