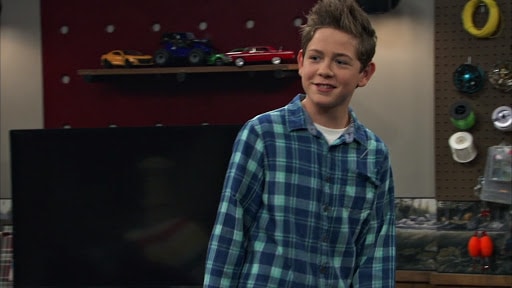 As one of the main cast members on Disney's comedy series, Coop & Cami Ask The World, Dakota Lotus is part of the networks new generation of stars. His character on the show, Coop, is a teenager who teams up with his sister, Cami, to crowd source advice on making decisions. Lotus considers the opportunity to be his break and and he's excited to see what the future has in store for his professional life. Although he's made a name for himself, in many ways he's still just like any other teenager. Here are 10 things you didn't know about Dakota Lotus.
1. He Knows How To Do Magic Tricks
Do you believe in magic? Dakota Lotus certainly does. He started studying magic a little over a year ago and has gotten pretty good at performing tricks. Card tricks are his speciality and he's happy to show off his skills whenever the opportunity presents itself.
2. One Of His Dreams Is To Live On A Tour Bus
Before getting his big break on Coop & Cami, Dakota was already being trained as a musician. He was studying musical theater under the legendary Jane Adderley. Dakota enjoys making music and plans to release a full length project. He hopes that one day he will be able to go tour and he is most excited about the chance to live on a tour bus.
3. He Enjoys Parkour
Dakota Lotus has an adventurous side. He loves to practice parkour in his free time. Parkour is an extreme sport that involves using your body to run around and jump over obstacles. Try to picture something like a skate park, but without the skates.
4. He Grew Up Around The Circus
Being able to hang out at the circus on a regular basis is probably a dream come true for most kids. For Dakota Lotus, it's been his reality. His mother works for Cirque du Soleil and he spent a lot of time going to the circus and seeing different performances. He once almost called on stage to participate in the "saw" trick. But he was so terrified at the thought of a creepy clown cutting him in half that he ran out of the room.
5. His Favorite Holiday Tradition Is Baking Cookies
The holiday season is a time where lots of people like to create and continue traditions. Dakota Lotus' favorite holiday tradition is baking cookies. In fact, Dakota enjoys cooking in general and even got the opportunity to back with the head chef of a Disney cruise ship.
6. He Loves Watching His Own Show
There are lots of actors out there who prefer not to watch their own work, but Dakota Lotus isn't one of them. In a Q&A on his YouTube channel, Dakota shared that he does enjoy watching his own show. He says it's great to chance to see the final product since they don't get to watch much during the filming process.
7. He Would Love To Work With Justin Timberlake And Bruno Mars
Dakota Lotus has high hopes for the future of his music career and he's already put a lot of thought into the people he wants to work with. He hopes that one day he gets the chance to work with Justin Timberlake and Bruno Mars, two artists who have inspired him greatly. Allen Stone is another artist that Dakota Lotus would love to work with some day.
8. He Loves Elvis' Music
Dakota is only 15 years old, which means the legendary Elvis Presley lived and died long before Dakota was even thought of. However, like many others, Dakota continues to be a fan of Elvis' music. In an interview with Glitter, Dakota also expressed that he is a fan of Michael Jackson.
9. Seven Is His Favorite Number
The number seven has a history of being considered lucky. In cultures all over the world, seven is thought to be special for various reasons. So it only makes sense that Dakota Lotus choose the number as his favorite. In his YouTube Q&A he also mentioned that the number has brought him luck as well.
10. He Loves School
If you ask most 15 -year-olds to talk about their favorite things, school probably won't be anywhere on the list. However, Dakota Lotus has a different relationship with school. Dakota attends school on set and says he's really driven to do well so that he's able to continue workin.