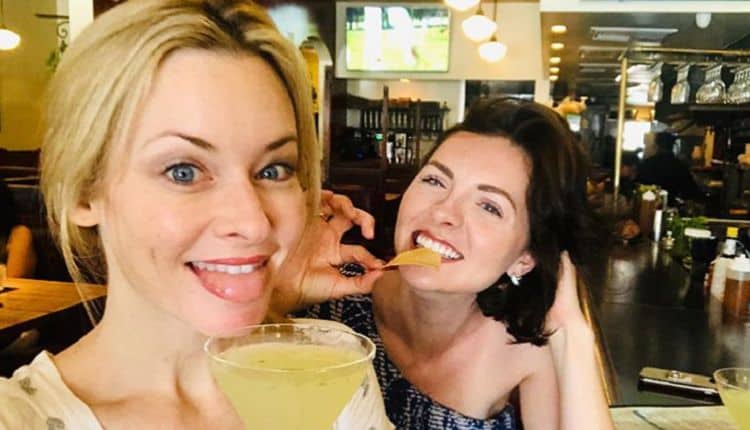 Being a chameleon on the Hollywood scene can have its ups and downs, but Chantelle Albers is always eager to take a risk and go in an opposite direction with her characters and choices. As a new face in Hollywood, she has emerged as one of this year's top indie stars as the producer and star in the female driven horror film The 6thFriend. Although she has been on stage acting since a child, Chantelle has always tried to expand her skill set outside of acting, only to bring it to use for her characters. When you can flawlessly play characters across the board like Chantelle can, you have to be pretty well rounded! Whether it's learning a German or British accent, ballroom dancing, or fighting off bad guys, Chantelle comes prepared with the details. With hard work and raw talent coming straight out of the Midwest, we are sure to see this actress is in for some crazy wild adventures on screen. Here are some things you may not know about her:
1. She played the bass clarinet for 8 years.
In 5thgrade Chantelle was told that she had to join concert and marching band and that she would be in it all throughout her junior high and high school days. So, she chose to play the bass clarinet, but what was the inspiration behind this instrument? Her aunt had an extra one in her basement so that made the decision an easy one. It was simply available, and free.
2. Her first time producing was with the female horror feature The 6thFriend.
She produced, funded, and starred in the theatrical release of The 6thFriend and it was her first time in a position both behind and in front of the camera. Always having a knack for collaborating and storytelling, this was one of her favorite ways of making a film. Being fully in it from beginning to end.
3. Rescued her dog off the street in Hollywood.
Chantelle has always been a very strong advocate of animal rights with a deep love for animals and concern for their well- being. When walking her dog Marley, she came upon a skinny feral dog that had been abused, had no chip or collar. Chantelle was able to get him into the courtyard of her house and where he tried to bite her and pee on her from being so terrified. Today his name is Eddie and he is happy and healthy living in doors.
4. An avid horseback rider
Chantelle grew up on a ranch in North Dakota. Her father being a farmer bought her a pony at the age of 6 and she never stopped riding, although she has moved on from ponies to quarter horses. We smell a western in store for her!
5. Once learned an entire play in a week
The play was Noises Off and for those of you that know it, this Tony Award and Drama Desk Awarded show is no small task or production. As the role of Belinda Blaire/Flavia, this 3 Act play within a play has the actors playing double roles and the blocking for Act 2 is an absolute zoo. But that's why you have professionals like Chantelle come in and whip the role into shape for opening night.
6. First musical was The Wizard of Oz as the Wicked Witch.
Here she began a love for character acting. There is something about the way Chantelle plays villains that makes us like them and want more of them. What is it about her bad guys that we just can't get enough of?
7. Well-versed stage combat and fight combat
She's actually had years of training on how to "look" like she's hitting a bad guy. And while it's all fun and games on set and in rehearsal for a show, in real life Chantelle is very bothered by fighting.
8. Had a massive brain injury at age 4
At the age of 4 Chantelle and her mother slipped and fell on the ice causing an epidural hematoma in Chantelle, which is a blood clot on the inside of her brain. She ended up having emergency brain surgery to release the pressure of the blood clot, and after awaking from a 15-hour coma, Chantelle had to re-learn all motor, speech, and body skills.
9. What's the real color of her hair?
Chantelle has been a blonde, redhead, and brunette for movies and plays. Every time she has to dye her hair for a role, she seems to take on that look for a while; at least until a new script calls for color change. Naturally Chantelle is a brunette.
10. Got her first Film Award in Spain at the Madrid International for The 6th Friend, and her first Irene Ryan Theatre Award for The Children's Hour.
The characters in each script are about 10 years apart from each other. Her character in The Children's Hour is 10 years older than her character in The 6thFriend, and she played The Children's Hour first. Years later she played Melissa in The 6thFriend, 10 years younger than Karen Wright in The Children's Hour. This is why we love chameleons; it's entertaining to see an actor go from one to the next across the board.
Tell us what's wrong with this post? How could we improve it? :)
Let us improve this post!