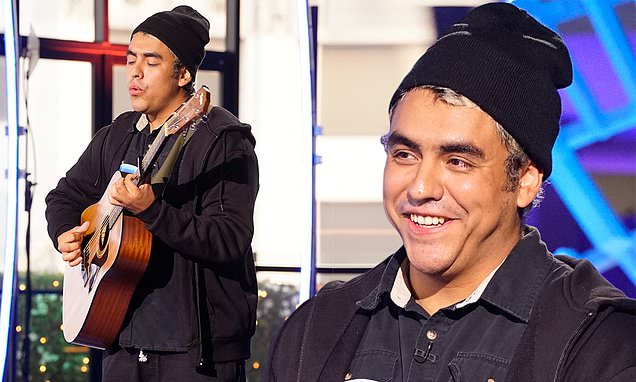 Thanks to his stellar audition on American Idol, it's fair to say the name "Alejandro Aranda" is on the lips of millions of fans of reality TV across America. As a dishwasher from California, Alejandro has been enjoying his first taste of fame of one of the most popular contestants to ever appear on the hit show. ABC are even asking whether Alejandro might in fact have given the "Greatest American Idol audition ever?". With his star firmly on the rise, now's never been a better time to find out 10 things you didn't know about Alejandro Aranda.
1. He's a musical virtuoso
Not content with stunning audiences with his guitar skills, Alejandro likes nothing better than showing off his piano playing to his loyal Instagram followers. According to Alejandro, he likes to play "Chopin and everything classic".
2. He's only been playing music for 4 years
Given his talents, you'd be forgiven for thinking Alejandro had been in the music industry for years. In fact, he's only been creating music for 4 years… begging the question of just how good he'll be in another 4.
3. His stage name is ScaryPoolParty
Not content with his birth name, Alejandro has his very own stage name. "ScaryPoolParty" came into being after Alejandro attended a pool party and decided his future ultimately lay in the music business.
4. He has a wide variety of musical influences
Alejandro credits his style to a wide variety of musical influences, including John Martyn, Nine inch Nails and Dead Can Dance.
5. He decided to pay music after witnessing its emotional power
His decision to create music came about after seeing a band called Backtrack in concert. Alejandro was so taken by the power of the music to elicit deep, powerful emotions in the audience that he decided, there and then, there could be no better industry to be in.
6. He won Artist of the Year in 2017
In 2017, Alejandro won Artist of the Year in a competition run by Five of Five Entertainment and California State University, Northridge. The winner of the award is decided each year by audience members at the Artist of the Year showcase. Of the showcase, Alejandro say's "My experience was great. The whole night ran smoothly, and everyone was super nice."
7. His audition track is already available to the public
You'll be pleased to know the track Alejandro played at his opening audition, "Out Loud", is already available on Spotify. According to Alejandro, the track is about his experiences growing up. "[Out Loud] is about how I didn't really tell the truth when I was younger," Alejandro told the judges. "It took me a while to finally speak the truth. I didn't really tell the truth when I was younger".
8. It's not only American Idol fans that love him
Alejandro's opening audition on Idol, in which he played his original composition, "Out Loud", completely floored the judges. Lionel Richie noted "You, my friend, are so talented. I am so inspired", while Katy Perry remarked "I think you're really special, I think you're an absolute genius". Bryan, meanwhile, was moved enough to comment "I don't think I want to see anybody else. I will not sleep until I watch him perform again."
9. He played as a street performer for extra cash
Alejandro did not initially get into music to become an artist. Rather, he just began performing with his guitar and piano in the street as a way of earning a little extra cash on top of his regular 9-5 as a dishwasher. His performances also proved a useful way of venting some of the frustrations of his job.
10. He's a Spotify sensation
In audition to "Out Loud", fans of Alejandro can catch two more of his tunes on Spotify: "10 Years" and "Fading Away" (released under his stage name ScaryPoolParty), are both currently available for your listening pleasure. If that's not enough, the Idol star can also be heard on British rapper Chris Birdd's single, "Thinking of You".
Thanks to his exposure on Idol, Alejandro's music now enjoys over 17,000 monthly listeners on Spotify. His social media popularity has also rocketed; since his audition, followers of his Instagram account have grown by more than 30,000.
Tell us what's wrong with this post? How could we improve it? :)
Let us improve this post!