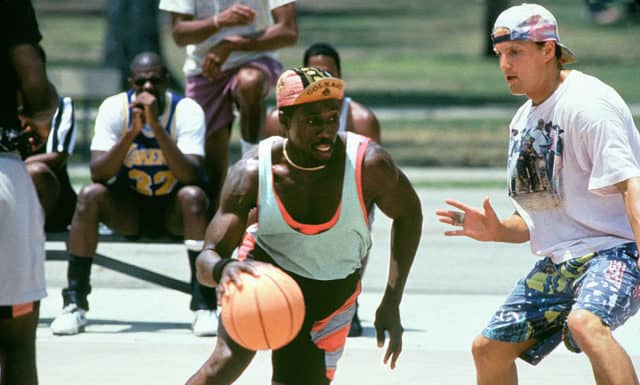 As basketball films go, White Men Can't Jump is perhaps one of the best even if it doesn't play the game by the same rules as you might find in other films. It's not about which team is better or worse, it's about which individual wants it to most and how far they're willing to push in order to get the job done. It's about hustling, money, greed, and if there's time, respect. These kind of lessons you don't learn on just any basketball court, you have to learn them in the street where life and basketball tend to collide with everything else. That's a big part of what makes this movie so memorable and such a popular draw.
Plus watching Snipes and Harrelson is just amusing.
10. Bob Lanier was brought in as a coach for the film.
Apparently Harrelson was going on about how he played ball in college. Lanier played him one on one and Harrelson said it was the most embarrassing 15 minutes of his life.
9. Snipes and Harrelson were both said to have reached the level to play for NCAA Division III teams.
This is impressive really since Harrelson had already played before but obviously hadn't progressed quite this far in his career.
8. The hoop had to be lowered for Harrelson to dunk.
He couldn't quite dunk on a ten-foot hoop so it had to be lowered to nine and a half feet. This was just one of the effects used to make every shot look so good.
7. In real life Harrelson was better at basketball than Snipes.
There's just the matter of experience since Harrelson had played at a higher level and Snipes is a fan but not much of a player.
6. Charlie Sheen was offered the role of Billy Hoyle.
He refused on the grounds that he wasn't that into basketball. He didn't want the film or his performance to suffer for his lack of interest.
5. Wesley Snipes is a big basketball fan.
He's also a big fan of Manchester United.
4. Denzel Washington was wanted for the role of Sidney Dean.
That's kind of funny since he would go on to star in the film He Got Game in which he's an ex-con trying to convince his star athlete son to attend a certain college.
3. Nike created shoes inspired by the movie.
This isn't much of a surprise since back in its day the film was very popular and inspired a few different things.
2. Several of the street ballers played real ball in college and/or in the pros.
A few of them were Sean Payton, Freeman Williams, and Marques Johnson. Basketball fans would likely recognize them within the games since a few of them are very prominently featured.
1. The writer for the film sued 20th Century Fox and never wrote for them again.
He successfully sued for $10 million dollars worth of the profits and never worked for the studio again.
This is one of those films that a lot of people have a lot of different opinions about. Personally I liked it.
Tell us what's wrong with this post? How could we improve it? :)
Let us improve this post!