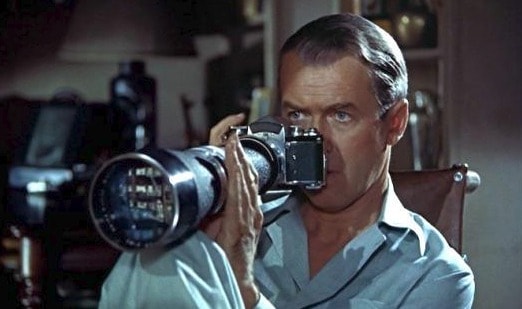 Rear Window is a movie that's kind of simple in that it sets up the idea of someone murdering his wife and disposing of her and someone having suspected him of it. Jefferies knows, or guesses, that Thorwald is someone to be leery of and soon enough drags everyone he knows into the act only to see them slowly but surely drop feet first into the mania he's created. The only redeeming quality is that he's absolutely right about his neighbor and almost has to die in order to prove it. Fortunately the movie has a happy ending as the killer gets arrested and Jefferies goes back to his quite life.
A film called Disturbia touched upon this very same theme, as did the comedy Men at Work.
10. The entire film was shot on one set.
There was a lot of work that went into the set and a great deal of money that was invested in setting it up to look like opposing apartment buildings. The lighting system along was insanely intricate.
9. Everyone was head over heels for Grace Kelly.
A lot of the cast and crew would wait on her to arrive to start their day it seems. It might seem odd but a lot of people were smitten with her just on the grounds that she was a lot of fun to work with.
8. Miss Torso pretty much lived in her onscreen apartment between takes.
Each apartment had all the necessities that were needed to live in them so it's not like it was an empty setup.
7. The sunlight was simulated.
About a thousand arc lights were set up to simulate the sunlight and had four different settings to carry the picture through the course of a regular day.
6. Every actor wore flesh-colored earpieces so that Hitchcock could direct them from afar.
He generally stayed in the same apartment as James Stewart so that he didn't have to keep moving from one place to the next.
5. This is the only film in which Grace Kelly smoked.
Usually she refused to smoke in a movie but this film was the one exception she made. Given that she was such a big star no one usually fought her on this matter.
4. The courtyard was actually the basement of the studio.
They had to tear up the flooring so as to uncover the basement. This was done to meet the height regulations of the set.
3. The original story had no love interest or other neighbors to spy on.
It might still have been a thrilling story but without the other neighbors or the love interest it might have been more of a short story than a feature-length film.
2. Alfred Hitchcock had very subtle cues as to what he approved of and didn't.
If someone did something right he didn't say anything. If they did it wrong then he looked like he was going to vomit.
1. At the time of this movie this was the largest indoor set at Paramount Studios.
Considering all the money and time that went into building it I'm not too surprised. This was a major undertaking back then.
Sometimes it pays to be a little nosy.