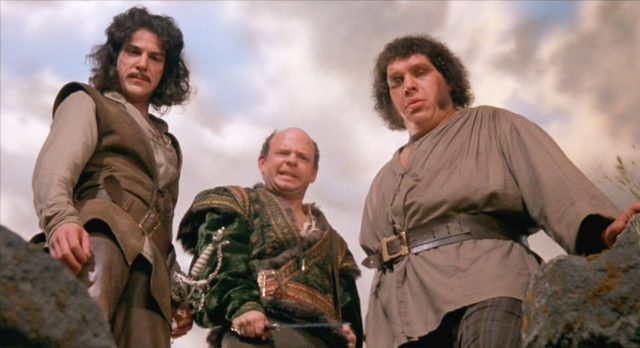 [easyazon_link identifier="B000VEPL2M" locale="US" tag="tvovermind00a-20″]The Princess Bride[/easyazon_link] has been a popular movie for quite a while now and has earned its reputation rightfully. It's one of the most perfect childhood movies that a lot of us can remember watching over and over again, and it still stands as a classic that a lot of people love to this day. So how many times have you seen this film? Did you think you knew everything there was to know about it? I'm sure a lot of people would make that boast in good faith but maybe you should take a look and see if there's anything on this list that you didn't already know. You might be kind of surprised to find a fact or two that had escaped your notice for all these years.
10. The director had to leave the room when Billy Crystal started being funny.
It's true. Rob Reiner actually had to leave the set when Billy Crystal really got going, otherwise he'd laugh so hard that he would make himself nauseous.
9. Andre the giant was actually very comfortable on the set.
No one looked at Andre differently just because of his size. He had a great time on the set as he went to say many times.
8. Andre's scenes had a lot of help.
Andre was having a lot of back problems during filming and had to have a great deal of help with his scenes. For the scene in which Buttercup jumps from the window into his arms she had to be suspended by wires.
7. When Count Rugen hit's Westley over the head he's actually hitting him.
Cary Elwes, Westley, actually told the Christopher Guest, Rugen, to hit him for real. It sent him to the hospital and stopped production for a whole day.
6. The sword fight between Inigo and Westley had no stunt doubles except during Inigo's flip.
The two of them were actually going toe to toe in their choreographed fight, which is fairly impressive considering that stunt men are used so often today.
5. Iocaine powder doesn't exist.
Leave it to movies to make up deadly toxins and powders that you think might be real.
4. There was an idea that Carrie Fisher would make the perfect Princess Buttercup.
Thank goodness that was never an option. I think most of us prefer her as Leia.
3. There was some improvisation in the film.
Billy Crystal was the biggest culprit when it came to this. A lot of his lines were improvised but in such a way that no one really cared. He was funny and the lines worked so they kept them.
2. The sword fighting scenes were actually shot last.
The men had to train nearly every day to get the forms right and as a result they had to be filmed very last so that their accuracy was on point. Pun intended.
1. The film wasn't a huge success at the box office.
It didn't even make twice what the budget was, so technically it couldn't be called a success. If you asked anyone that's ever seen it though they would still tell you that it's one of the greatest movies ever made.
So how many facts did you already know?
Save