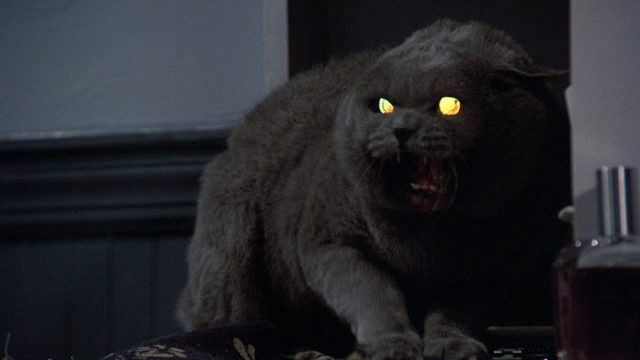 Despite not sticking to the book, as usually happens in any story that's transitioned from the page to screen, Pet Sematary did not undergo a completely successful switch. It was creepy and it was the type of movie that kept you on the edge of your seat for much of the time but the acting by some of the cast was just flat out horrible and so over the top that many viewers could admit to waiting patiently for the drama to end and the horror to start back up again. Plus, it reaffirms the fact that cats are just flat out evil. Okay, okay, undead cats at least.
So how many things do you think you know about the movie?
10. There's a mention of Cujo.
In the book Judd makes mention of a rabid dog that attacked his owner while in one scene a sign advertising rabies shots shows the ill-fated St. Bernard.
9. Stephen King makes a cameo as a minister.
King has been able to find a role in nearly every one of his films at some point and time. It's kind of funny to see really.
8. The film became the standard for King's films being shot in Maine.
From this point on almost all of his films were shot in Maine on his request. This one was shot only about twenty minutes from his home.
7. Much of what happened in the movie was a part of King's life.
His daughter's cat was struck by a moving vehicle, and his son Owen almost wandered onto the road when a truck was coming past.
6. The Ramones is one of King's favorite bands and performed during the credits.
It's interesting to see just how much influence a writer can have on a movie when they're this involved.
5. The burial ground was carefully constructed on a real mountaintop.
The MicMac burial ground was completely fictitious but was built on a real mountaintop using heavy machinery.
4. This was Miko Hughes', Gage Creed, film debut.
He was about 2 years old when he first started out and from that point one went to star in other movies as he grew a little older.
3. King admits this was the only story he wrote that scared him.
You might not believe this but authors can actually scare themselves when they write. It's a very common phenomenon that not a lot of writers cop to.
2. Bruce Campbell was the first choice for Louis Creed.
It might have become too comical if Campbell had been selected simply because the guy made a movie like Evil Dead look hilarious.
1. Miko Hughes' parts were largely kept away from the more intense action.
In order to keep Miko from being constantly terrified and ultimately traumatized when he grew up his parts were shot well apart from the other sequences and were done using a stand-in dummy when necessary. A lot of people were up in arms about a child starring in this kind of intense horror film and were sure that the young Miko must have need therapy well into his teens. But nope, the director was very careful.
So how many facts did you know?
Save