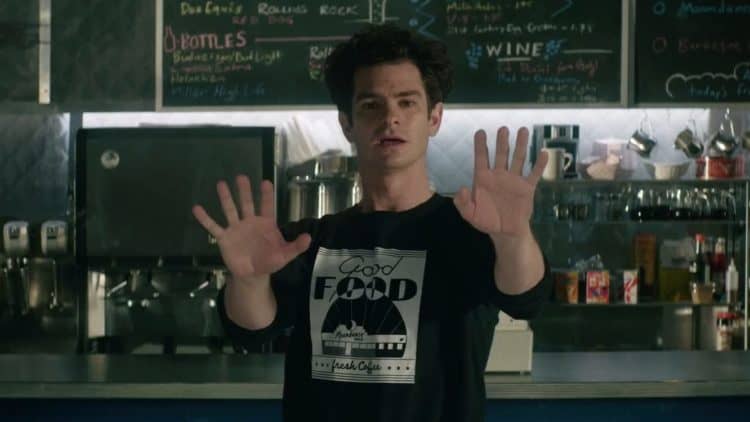 Andrew Garfield has received various accolades throughout his career. He is a recipient of a Tony Award and a British Academy Television Award and was nominated for an Academy Award for his performance in Hacksaw Ridge. He has been appearing in big movies recently, starring in Lin-Manuel Miranda's directional debut, Tick, Tick…Boom!, as Jonathan Larson; playing televangelist Jim Bakker in the biopic The Eyes of Tammy Faye; and reprising Spider-Man in Marvel's Spider-Man: No Way Home. According to Study Breaks Magazine, the actor has been receiving a lot of attention in the past month with his recent performances. "No matter what corner of the internet you find yourself in, there's no doubt that you've encountered plenty of posts about Garfield in the last month. Some have even gone so far as to say that we're in the midst of 'The Andrew Garfield Renaissance', with audiences adoring the actor so much in his newer films that they have gone on to re-watch his older ones." Andrew Garfield has definitely proven his talent especially this year, and if you plan to watch some of his best movies, here are five of Andrew Garfield's performances that we believe deserve an Oscar nod.
Tick, Tick…Boom!
Andrew Garfield showcases his musical talent as Jonathan Larson, creator of the broadway hit musical Rent, in the Netflix film Tick, Tick… Boom!. The film is directed by Tony and Grammy Award winner Lin-Manuel Miranda and is an autobiographical musical about Larson's struggles towards success before he died at age 35 from an aortic aneurysm the day before the first preview of Rent. Garfield sings his heart out and plays the piano in the film. Several sources have already started to suggest that the actor might win an Oscar for his performance in the musical film. Variety published an article about the actor's possible Oscar win saying, "With tender vocals and a heartfelt vulnerability, Garfield could emerge as a definitive challenger to the best actor prize that has seemed preordained to Will Smith for "King Richard." If achieved, Garfield would be the first leading actor from a musical to win in over 55 years." According to CBR, Garfield has already been nominated for the upcoming 79th edition of the Golden Globes with Tick, Tick… Boom! and added that it is highly likely that Garfield will also receive a nomination for an Academy Award. In the same article, they wrote about why Garfield deserves the Best Actor Academy Award for 2021. "In Tick Tick… Boom!, Garfield finally gets to show his versatility in an overall outstanding performance that captures the essence of Jonathan Larson. His energy on screen is captivating, whether he is frenetic and obsessive or sensitive and adorable. It is, by far, his best work yet, not to mention one of 2021's most memorable. Not only does he deliver quality drama, but he also sings, dances and plays piano live for the camera. Audiences don't need to be musical fans to enjoy Tick, Tick… Boom!, mostly because Garfield's captivating presence fills the screen."
The Eyes of Tammy Faye
Andrew Garfield also played televangelist Jim Bakker in the 2021 biopic drama film The Eyes of Tammy Faye. The film, directed by Michael Showalter, narrates the story of Jim and Tammy Faye Bakker's rise to fame as pioneers of televangelism from the mid-'70s to the mid-'80s and how they fall as they are entangled in scandals and fraud controversies. Variety published a review of the film saying, "Chastain and Garfield give performances that are brashly entertaining but also canny and layered, as the characters get caught up in something far bigger than themselves." Los Angeles Times also gave credit to Garfield's performance in the film. "Garfield shows how so many might have fallen for Jim's amiable bluster, to the point of funding a massive Christian-themed water park, a Disneyland for the devout. But Garfield also betrays a glimmer of terror whose roots the movie only coyly hints at as the Bakkers' marriage begins to unravel."
The Social Network
Another notable performance from Andrew Garfield is his role in the biographical film The Social Network, where he played Facebook cofounder Eduardo Saverin opposite Jesse Eisenberg as Mark Zuckerberg. The film was directed by David Fincher and written by Aaron Sorkin. Garfield received several nominations for his role in the film such as Best Supporting Actor and Rising Star Award in the British Academy Film Awards. He also received the Palm Springs International Film Awards' Ensemble Performance Award for The Social Network. Garfield's famous line from the film still lives on until today. The famous scene where he smashes Zuckerberg's laptop and tells him, "And I'll bet what you hated the most is that they identified me as a co-founder of Facebook—which I am! You better lawyer up, a**hole, 'cause I'm not comin' back for my 30 percent, I'm comin' back for everything!" In an interview with Vanity Fair, he shared the many takes it took behind the scenes with director David Fincher and how he enjoyed saying Aaron Sorkin's killer lines over and over. "To be given that kind of dialogue, it's very rare to come across when you're working in film," the actor shared.
Never Let Me Go
Andrew Garfield also starred in a British dystopian romantic tragedy film titled Never Let Me Go, based on Kazuo Ishiguro's 2005 novel of the same name. The film was directed by Mark Romanek from a screenplay by Alex Garland and also stars Carey Mulligan and Keira Knightley. The film follows the story of Kathy, Ruth, and Tommy who grow up together in a boarding school and their journey towards adulthood facing the realities of life and struggling with their friendship. Den of Geek praises Garfield's performance in the film saying, "Carey Mulligan and Andrew Garfield are the emotional nucleus of the movie and their almost love story is just devastating. Andrew Garfield is magnetic on screen and Mulligan is the glue that binds, guiding us through with intermittent voiceovers that enhance rather than distract."
Silence
In Martin Scorsese's Silence, Andrew Garfield joins Adam Driver and Liam Neeson to tell the story of two Portuguese Jesuit missionaries Father Sebastian Rodrigues (Andrew Garfield) and Father Francisco Garupe (Adam Driver), who are faced with a life-threatening dilemma in their quest to find their mentor Father Ferreira (Liam Neeson) and keep their faith. The film was adapted from Shūsaku Endō's novel of the same name which was first published in Japanese in 1966 as Chinmoku. According to an article by The Guardian, at the world premiere of the film, Pope Francis joked that Andrew Garfield deserved to be ordained for his performance in the film. An article by Vox has highly praised the movie saying, "The genius of Endō's story and Scorsese's adaptation is that it won't characterize anyone as a saint, nor will it either fully condone or reject the colonialist impulses, the religious oppression, the apostasy, or the faltering faith of its characters. There is space within the story for every broken attempt to fix the world."Lin-Manuel Miranda
Tell us what's wrong with this post? How could we improve it? :)
Let us improve this post!