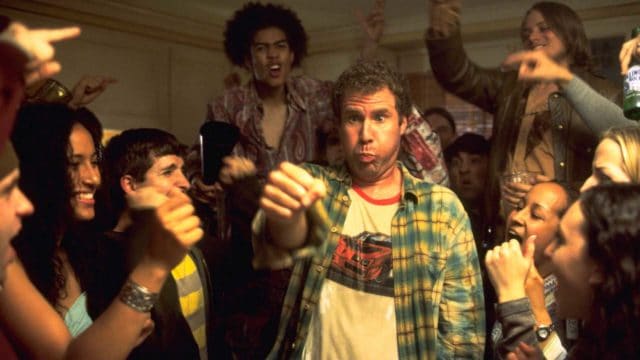 There have been a lot of college movies to come around but only a select few have been worth remembering. Animal School was one, Van Wilder was another, PCU could be argued to be great enough to throw in the mix, and Old School definitely makes the cut. When Mitch first learns that his girlfriend is cheating on him the last thing he wants to do is throw a party and the absolute last thing he wants to do is start a fraternity. But thanks to the dean of the local college throwing a wrench into his life by declaring his house a part of the college campus he doesn't have a lot of choices left. So he and his two best friends quickly round up a bunch of unwitting pledges and begin a fraternity so that he can stay. It's kind of ironic that in the end he decides to leave anyway.
It's not the typical college experience, but in a way a lot of us might wish it was.
10. The band at the wedding is an actual band.
The name of the band is The Dan Band and they've played in a couple of other movies as well.
9. A lot of Luke Wilson's scenes were done in one take.
This isn't the norm really, it can a lot of takes to get one scene right if the director wants to see it done in different ways or if someone messes up.
8. There were 300 extras at the party scene.
Vince Vaughn had to keep them all entertained for about an hour to get the shots they needed.
7. Will Ferrell had to run totally naked down a public street.
He did a practice run in his robe and attracted the attention of people working out in a 24-hour gym along the stretch of road. Once he did the real scene no one was watching any longer.
6. There were plans to create a sequel.
Vaughn and Ferrell agreed that it would be too much of the same material so it was scrapped.
5. The party was actually the last scene that was shot.
That might seem odd but a lot of movies don't shoot every scene in chronological order.
4. Vince Vaughn wasn't wanted for the film at first.
He wasn't yet being considered as a comedic actor, but thankfully he managed to shine for this film.
3. The script took two months to write.
The writers and director stated that it was almost like going through boot camp trying to get the final script edited and finished.
2. Will Ferrell is drinking O'Doul's at the party.
So when he's getting trashed it's not even possible that he was feeling the slightest buzz.
1. Parts of the film were shot around UCLA and others around Harvard.
Obviously the university in the film is fictional so they had to take as much as they could from other college campuses that would offer the type of scenery they were after. It came out looking pretty good to be honest.
You're never too old to party.