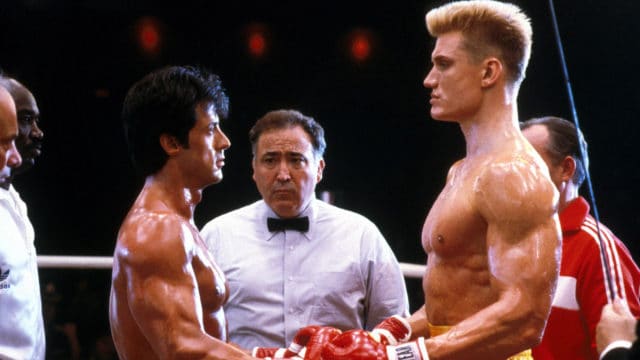 A lot of actors can do action movies, but Sylvester Stallone's fight scenes are some of the greatest in cinematic history. One of the greatest reasons is that for his fight scenes, at least a lot of them, that's him in there and not a stunt double. unless he's so wounded that he can't make it or the stunt is that difficult or dangerous the chances are that you'll see him in the fight. Plus, just to prove it's dangerous he's been sent to the hospital more than once during his career since the toll this takes on his body is so heavy that he's come close to death at least once. You could say he's dedicated to his craft and you'd be right, but there has to be a limit that a body can go to before you have to just say enough.
For those of growing up in the 80's and 90's we got to see some of the best he had to offer.
5. The Expandables 3
This is like a dream match that you never thought would happen. Mel Gibson has always been known for his role in Lethal Weapon and Stallone for his role in Rambo. But what if the two were to meet? This kind of answers that question, but only insofar as you get to see them fight as older men that are still tough as nails but don't bounce back as quickly.
4. Bullet to the Head
You'd think Stallone taking on a younger guy would put him at a slight disadvantage, but he keeps up with Momoa pretty well up until the end. You know the bad guy, Momoa, is about to go down anyway, but plans on taking Stallone with him until Stallone's partner fires a few shot from off screen, saving his life and taking out the bad guy for good.
3. Grudge Match
Raging Bull vs. Rocky was what a lot of people thought about this one, and for the most part a lot of folks believed that the character of Rocky would win. Obviously those aren't the characters they're playing in this film but that's what it was lauded as no matter what title it would have been given. In short, this was another attempt by Stallone to give fans what they wanted in a different way.
2. Demolition Man
The movie was horrible but the fight scenes were still pretty good. Much of it was Snipes pretty much because between the two of them he was the most highly trained it would seem. But Stallone held his own and in an ending that was pretty lame to be honest finally found a way to take care of Phoenix for good. Now if the movie could have been better the death might have been more satisfying.
1. Rocky IV
This scene can't possibly be replicated with the same depth and feeling that this film brought. The montage before the fight was kind of weak but the fight itself had people gripping their arm rests and cheering Rocky on as though they were actually in the arena.
A lot of guys can put on good fight scenes, but Stallone's are just epic.