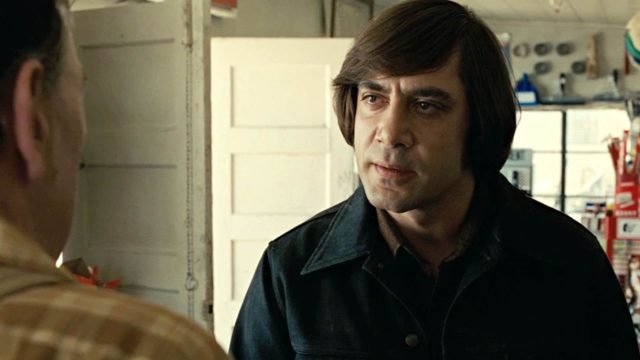 No Country for Old Men has reached the first decade after its release and is still remembered as a rather interesting and even powerful film. It was definitely a movie that didn't pull many, if any, punches and was geared more towards the idea that fate will eventually find a person in one form or another. The trick of it is to know what to do when that same fate finally catches up to you. Do you run? Or do you face it and do what you can to make it work for you? Regardless of whether you want it or not, fate will come and it will stand aside as you make that all-important choice. The movie made this abundantly clear as the hired hitman went about his way killing those that stood in his path, while offering a chance for others to walk away.
Ten years later though, how much do you really remember about this film?
10. Most of the filming was done in Las Vegas.
They did some shots in Texas as well, but a good deal of it was done in Las Vegas. They were also shooting close to where There Will Be Blood was filming so they had to wait a day to proceed when a fake oil rig was set ablaze.
9. Mark Strong auditioned for the role of Chigurh.
Strong has appeared in such films as Robin Hood and The Kingsmen: Secret Service. He was one of the final two during auditions that was up for the part of Chigurh.
8. Josh Brolin was injured just two days after winning his part in the film.
He got into a motorcycle accident two days after receiving the part. Thankfully his character gets shot in the shoulder fairly early into the movie, so it worked out.
7. The three main characters don't share any screen time together.
Despite the fact that three great actors share billing in the film they never had a single moment of screen time together.
6. A nail gun was used for the sound effects of Chigurh's cattle gun.
It seems a very bad way to die but technically Chigurh only kills one person with it. The rest of the time he uses it to break locks. The sound it produces is quite loud thanks to the impact of the bolt.
5. Tommy Lee Jones claimed that the movie is a comedy and a horror.
The Coen Brothers countered by saying it's as close to an action movie as they're going to get.
4. Chigurh was meant to be as ubiquitous as possible.
The Coen's didn't want him being able to be identified as anyone from any identifiable country, and thanks to Bardem it worked great.
3. Tommy Lee Jones was worried about being typecast.
Considering the fact that he's been used to fill the role of a US Marshal or sheriff so often he was worried that he was being used in the same manner. But the script was good enough that he took the chance.
2. The border patrol at the Mexican border was built from scratch.
They had to get a 1980's look for the border between the US and Mexico so they had to build the whole thing from the ground up.
1. The silencer on Chigurh's shotgun was heavily criticized.
A lot of critics, hopefully people that knew something about it, claimed that the silencer was too short to have the desired effect on Chigurh's gun.
Did you happen to know any of these facts?
Save
Tell us what's wrong with this post? How could we improve it? :)
Let us improve this post!