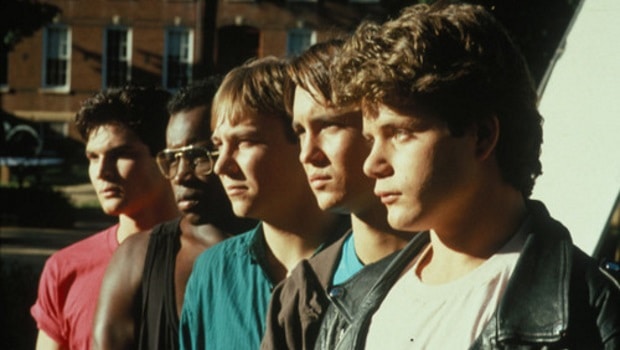 Toy Soldiers is a unique film even for the time period it was created in. The one thing you should never do is underestimate teenagers. By this age they know how to get around authority unless they've never dared to question or even think about dodging their elders when it comes to obeying. Even a band of ruthless killers that go searching for the family of the judge that sent their leader's father to prison are no real match for a band of dedicated young teens that know how to get around authority of any kind. It's a dangerous situation but one that a small group of friends seems to easily navigate as they help to take down the men that have invaded their school and held everyone inside hostage.
Here are a few things you might not have known about the movie.
10. Major Payne was also filmed at this school.
If you don't remember Major Payne he was one of Damon Wayan's only really funny appearances on film. You know, Damon Wayans, from In Living Color?
9. The banana scene was improvised.
Sean Astin had asked a crew member for a banana and was eating throughout the scene. Even his eye roll was improvised.
8. The brick wall around the quad is fake.
It was a fake brick veneer over a wooden frame. The students got to tear it down after the film was over in celebration.
7. At the time of filming the school used was a boys-only military prep school.
Considering it was used for Major Payne it makes a lot of sense why it was used in this manner.
6. 18 characters were killed in this film.
That's a low body count for this kind of film really. But then it wasn't meant to be the type of movie where bodies would be flying everywhere.
5. The bathroom off the dining hall is actually a closet.
They must have cut to a scene in the actual bathroom whenever they needed to.
4. Andrew Divoff said this was his favorite role he ever played.
He got to be as bad as he wanted to be so it makes sense that it would be a liberating role. Whether a character is bad or good doesn't matter, it's all a matter of how enjoyable it is for the actor.
3. The guys that bought the adulterated mouthwash were the producers.
From time to time everyone seems to enjoy getting in on the movie. In a lot of films the director will play a part at one point or another.
2. Sean Astin's character is named after a character in a Jack Nicholson film.
The film was Drive, He Said, and starred William Tepper.
1. Sean Astin and Keith Coogan's father and grandfather, respectively, starred in The Addams Family.
Getting into show business is probably a little bit easier when you have relations that can put in a good word. Whatever helps right?
Toy Soldiers was one of the more underrated films of its time and further proof that while he's a little bit egotistic off screen, Sean Astin is still a great actor onscreen.
Tell us what's wrong with this post? How could we improve it? :)
Let us improve this post!