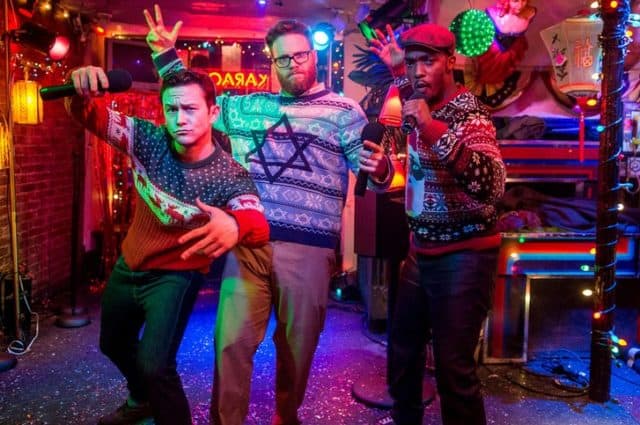 The Night Before is kind of a mind-bender for being a Christmas movie and pulls out a lot of stops in its effort to be as nutty and kooky as it can possibly be. While a few of the actors are known for being comical and outright nuts, guys like Joseph Gordon Leavitt and Anthony Mackie are still great even if they're not thought of as comedic actors. Throughout the the whole night the three men, old friends from years past, attempt to wrap up a tradition that's been going on for well over a decade and find that instead giving it up, they might as well create a new tradition that sees them all satisfied and ready to move on to the next stage of their lives together.
It's a feel good movie that just happens to be messed up.
10. The comedy in the film was improvized.
The dramatic parts were all in the script but the comedy had to be improvised. It's a good thing that the actors were up to it since none of it had been laid down for them.
9. Anthony Mackie and Michael Shannon were in 8 Mile together.
Shannon played the boyfriend of B. Rabbit's mom while Mackie played the vicious leader of the Free World group Papa Doc.
8. Seth Rogen reenacts a moment from Home Alone.
The classic hands to the sides of the face as he yells is directly from Home Alone.
7. This is Anthony Mackie's second role in which his character has a drug problem.
In Pain and Gain he was also using steroids to combat a rather embarrassing male problem that made him feel very inadequate.
6. Rogen, Shannon, Mackie, and Leavitt have all starred in superhero movies.
Seth was in The Green Hornet, Mackie was the Falcon in Avengers, Shannon played General Zod in the Man of Steel, and Leavitt played a police officer in The Dark Knight Rises, and is presumed to have become either Robin or Nightwing sometime after.
5. Some of the movie was filmed in August.
It's hard to think that it was anything but uncomfortable since they were wearing thick sweaters that had to keep them sweating all over the place.
4. Rogen was in another movie where he was accused of not reading the baby books on what to do.
The movie was Knocked Up and his costar was Katherine Heigl. The two of them hooked up in a club and she wound up getting pregnant after taking him home for the night.
3. Seth calls Joseph by his real name during the limo scene.
Whether it's an accident or on purpose is kind of hard to tell.
2. Leavitt and Shannon were in the film Premium Rush together.
Shannon plays a crooked cop while Leavitt plays the role of a bike messenger that the cop is trying to find and detain.
1. Sony pushed the release date back a couple of times.
Originally it was supposed to be released in early to mid-December of 2015, but it was then pushed back to November 25th, and then to November 20th.
It might have offended a few people but it was pretty funny.