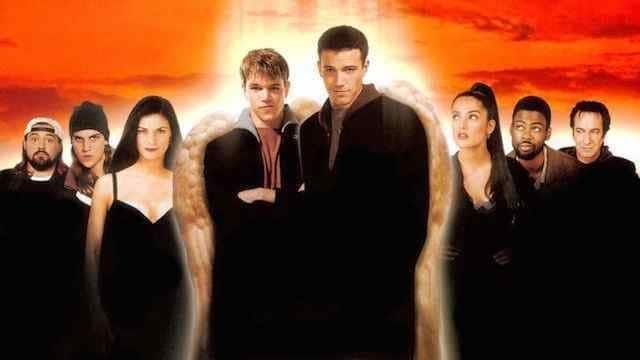 Dogma is the kind of movie you might watch if you're feeling like getting a dose of religion along with a big, healthy dose of sacrilege in the eyes of some people. Kevin Smith doesn't pull a lot of punches in his movies on a regular basis but he went for the gold in this one when he came up with the idea of two exiled angels attempting to get back into heaven thanks to a loophole in church doctrine that would allow them to finally re-enter heaven. Of course as that would prove that God is fallible it would also destroy the world and everything in it, which is not optimal for those that happen to like the world the way it is.
Smith definitely goes out on a limb in this movie, but a lot of people thought it was worth it.
10. Jason Mewes had his A game going.
He'd read and memorized his lines and was on his best behavior to avoid upsetting Alan Rickman.
9. William Donohue blasted the movie without ever seeing it.
He belongs to the Catholic League and lambasted the movie without ever seeing. It was only six months after the release of the film that he requested a private screening so that he could take a look.
8. Linda Fiorentino was apparently very difficult to work with.
There were days that she wouldn't even speak to him which made the job that much harder. He ended up wishing he would have given her part to Janeane Garofolo.
7. The hoods the angels wore represented their halos.
If you notice the angels are all wearing the same type of clothing as well, save for the fact that they're in different colors.
6. Jason Lee was supposed to play Loki.
A scheduling conflict arose that forced him to take the smaller part of Azreal, the demon that's attempting to help the angels end the world.
5. Alanis Morissette was supposed to play Bethany.
She played the even shorter role of God at the end of the movie, but this was because she was on tour during production and couldn't make it back to play the lead.
4. Emma Thompson was going to play God.
She had agreed but had to bow out because she gave birth to her child and decided to stay at home for a while. That sounds like a good move.
3. George Carlin was immediately on board to play Cardinal Glick.
His only demand was that he got to keep his wedding ring on since he'd just lost his wife not that long ago. It was covered up with a bandage but in truth it would have been fine being revealed.
2. Ben Affleck cut himself for real.
When he and Matt Damon are in the gun shop trying to find a weapon he's playing with a knife and cuts himself for real.
1. Smith kind of skewed mythology for his own purposes.
In actual mythology Azreal is the angel of death, not Loki, and Loki is the Norse god of mischief.
It angered a few people but the movie was pretty funny.