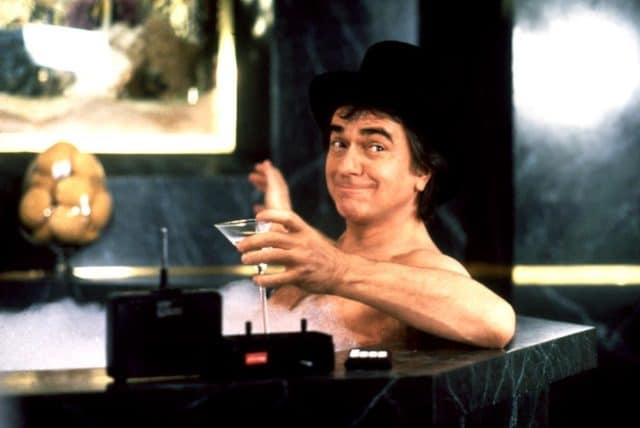 Arthur is the story of a spoiled, privileged millionaire that hasn't had to grow up throughout his entire life and has subsequently been happy as a clam to remain perpetually drunk and without a care in the world. When he's pressured into marrying a woman he doesn't love however he has to decide whether he'll choose to go through with it in order to gain his inheritance from his family or if he'll seek to marry a working class woman instead and leave it all behind. It's not a rags to riches sort of story, but more of riches to possible rags tale.
As you can guess he still comes out as a millionaire at the end.
10. Liza Minnelli got on the wrong bus at one point.
She thought that she was getting on the bus that was being used for the movie but when she figured it out she realized that the whole crew had seen her get on the wrong bus.
9. Dudley Moore apparently based his bad behavior on Peter Cook.
The behavior in question was what led to the falling out between Moore and his former friend Cook. It was used as inspiration for the film.
8. During one scene a lighting tech fell off of his ladder.
He was laughing so hard at a particular scene that he couldn't keep hold of his ladder. It would seem that he was okay however.
7. John Belushi was offered the role.
His widow revealed this after his passing, but apparently John didn't want the role since he was afraid that he would be typecast.
6. Dudley Moore was constantly cracking up the entire crew.
It would take multiple takes to get through one scene sometimes so that they could move on since Moore was cracking jokes the entire time.
5. This was the fourth most popular film of 1981.
The 1980's were an interesting time in cinema as there were a lot of good movies that came out and a lot more that were just, well, interesting.
4. Dudley Moore was an accomplished pianist.
He would take the time to play a few notes in Liza Minnelli's dressing room from time to time.
3. There was a big argument about Dudley's accent.
The director wanted him to use an American accent but Dudley was adamant about using his own accent since he would be tripping over certain vowels or sounds continuously. In the end Dudley won the argument and went with his original accent.
2. Moore thought it was a movie about King Arthur and the knights of the round table at first.
I can see how that might be the case. A simple name as a title could mean just about anything and it might have been a period piece about the famed knights and their king.
1. Dudley Moore was not the first choice for this role.
There were a lot of individuals that were given consideration for this role and he was far from the first. It was said that an American actor was wanted for the role, but everyone either passed on it or were found wanting.
This seems like one of those cases in which only one man could really fit the bill.