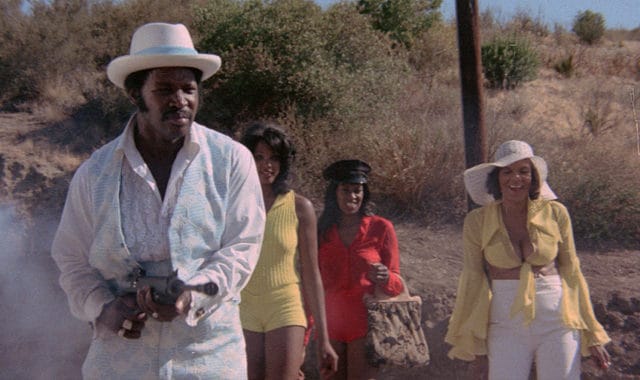 Dolemite is the story of a pimp that was set up by the cops and his rival, Willie Green, and sent to prison for 20 years. Eventually Queen Bee and a few others decide to bust him out and upon his release Dolemite goes to work trying to get his reputation and his territory back in the only way he knows how, by gunning people down and beating them senseless. All the while he's still all about his women and his business. This is one of the many blaxploitation films that has been noted within film history that's been remembered by some and willingly forgotten by others.
Just watch the trailer and you'll figure out why. Some folks love it, others stay away from it.
10. This film managed to influence a lot of people.
This film inspired Snoop Dogg, Quentin Tarantino, and even Eddie Murphy. It had that edge to it that a person could get into, but beyond that it was the kind of cheesy movie that you really have to love if you're going to keep watching it.
9. It was called the 'Citizen Kane' of Blaxploitation.
Basically it was one of the black exploitation films that went so far over the top that it was considered to be good it was so bad. How that happens I'm not sure but it is possible.
8. One of the characters was found on the street.
Rudy Ray Moore couldn't find who he was looking for to cast for a certain character and as luck would have it he saw a man on the street that he figured would be perfect for the role.
7. Dolemite is a play on the word dolomite.
Dolomite is a naturally occurring mineral that consists of calcium and magnesium. Maybe he thought the name sounded cool.
6. The movie is referenced in a Dr. Dre and Snoop Dogg song.
It's in a couple of songs actually. The first is Let Me Ride by Dr. Dre, and the second is in Nuthin' But a G Thang and the lyric goes "Pimpin' hoes and clockin' a grip like my name was Dolemite".
5. Entertainment Weekly rated this on their Guilty Pleasures: Testosterone Edition.
It ranked in at number 13 and it's kind of obvious that it would be all testosterone talking when it comes to ranking this movie.
4. The movie is heavily featured in a song by Ol' Dirty Bastard.
The video to the song Got Your Money has a lot of clips from Dolemite and even has Ol' Dirty Bastard's face superimposed over some of the characters.
3. In the original version the boom mic is visible in the shot.
This was fixed once the format was changed for the DVD (yes, even this went to DVD), but in the old VHS format the boom mic can still be seen.
2. The lead actor wrote and directed the film as well.
This film didn't have much of a budget so Rudy Ray Moore had to do a lot more of the work.
1. The cast were largely civilians without any real acting ability.
A lot of the cast were either brought in off the street or were just no-name actors that agreed to be in the film.
Watch it once at least to see if you like it.