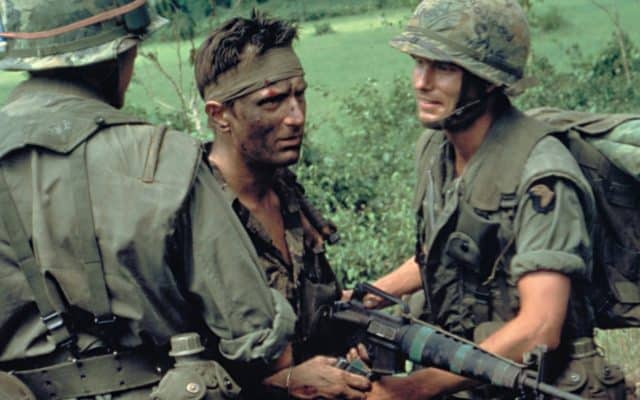 The Deer Hunter is a tragic story about a group of friends that are bit rowdy and out of control at times but are still there for one another when they need to be. They know as they reach their manhood that two things are going to be expected of them, that these are rites of passage that people in their town expect of them. They'll get married, and/or they'll enter the military. Well when the time comes they get shipped off to Vietnam, and eventually the horror begins. At one point they're captured and forced to endure the kind of torture that's meant to break people until they're nothing but gibbering wrecks, shells of the people they used to be. Once they manage to get free they make their way back to safety, but the damage is done.
What's broken can't ever be whole again.
10. Christopher Walken spit in Robert DeNiro's face for real.
The director and one of the writers convinced Walken to do this and were amazed that he did. DeNiro almost walked off the set in anger.
9. Robert DeNiro had to put up the money for John Cazale to be in the film.
Cazale was very sick when he did this movie as he was dying of cancer, and could not be insured. He was almost replaced when DeNiro offered to put up the insurance money for him.
8. John Savage had a real problem with rats.
The scene in which he's being put into the hole with rats and dead bodies is more horrifying because he was in truth very terrified of rats.
7. The slapping portion of the Russian Roulette scene was very real.
The director told the extras to full on slap the actors so that they could get real reactions. Eventually this bit started to wear thin, which was perfect for the film.
6. Christopher Walken was on a very strict diet for his part.
The main part of his diet consisted of bananas, rice, and water. This gave him the kind of hollowed out, vacant look.
5. There was a mass walkout when the film was shown at the Berlin festival in 1979.
The delegates from many countries simply did not appreciate the way that the Vietnamese were being represented in the film.
4. Every scene was shot on location.
There was no sound stage for this film, they shot everything on location.
3. The casting of the extras had to be taken with care because they wanted someone that would bring realism but not take it too far.
At one point a Thai man was found that had absolutely no love for Americans and could deliver a good hard slap.
2. There was a lot of argument as to the realism of the scenes.
The main argument was what really did happen over in Vietnam versus what was created for the film. The director kept it his way to incite controversy.
1. The deer hunting scene is shot in the Cascade Mountains in Washington.
This one is pretty simple, elk aren't native to the east coast, so they had to go west to catch sight of one.
This movie was messed up eight ways from Sunday but it's still considered a classic.