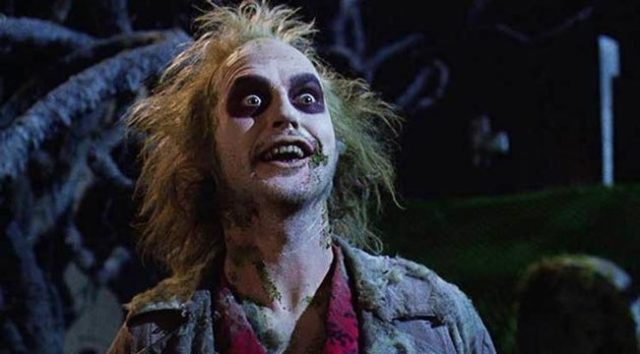 He's the 'ghost with the most' and quite honestly you might not want to know what the 'most' is. Beetlejuice was kind of a castoff that was supposed to be great but wound up being just flat out nasty and just barely reached cult favorite status really. The actors were great, the story wasn't bad, but somehow there was just enough of a disconnect that it didn't work after the movie. Summoning a dead guy to rid yourself of the living is kind of a one-shot deal it would seem judging by the movie, and it worked for the most part.
But making it into a cartoon was kind of overkill.
10. This is Michael Keaton's favorite film of his own.
Batman wasn't the number one since he got tired of having to get in and out of the suit all the time. But quite honestly this character had a lot of prep time as well.
9. Beetlejuice was supposed to be the 'every man' kind of spirit.
According to Tim Burton he wasn't supposed to belong to any one time but he belonged to all times, sort of a spirit that could adapt and evolve to whatever situation was needed.
8. When Glenn Shadix passed away The Banana Boat Song was played at his funeral.
Glenn played the part of Otho, the know-it-all trendsetter that helped the Deetz's find and remodel their home. He was also in Demolition Man.
7. The original script called for a very different Beetlejuice.
In the original script Beetlejuice was supposed to a reptilian demon that would turn into a middle-aged Middle Eastern man when dealing with the Maitlands. This version was a lot funnier and much more marketable.
6. Every character in the waiting room scene appear as they died except the Maitlands.
When you think about it the Maitlands died when the bridge they were riding over collapsed. They drowned, which meant that they would have to be wet all the time. Burton considered that this would be just too uncomfortable.
5. Michael Keaton did a lot of ad-libbing.
He was allowed to do so since reverting back to his normal voice at times really pulled the character together and made him something other than just a wisecracking spirit.
4. There was a sequel planned.
Thankfully Burton came to his senses and didn't bother filming it. He opted for the Batman film instead, though there were still talks of the Beetlejuice return as of 2015.
3. Despite being PG the film does have one use of the F word.
It happens just once so it seems that it was allowable to let it just pass, but it was kind of a shock.
2. The main character of the film doesn't even spend twenty percent of the time in the film.
Beetlejuice doesn't even come into the film right away, and once he does he still doesn't get a lot of screen time.
1. Winona Ryder was only 17 during the filming of this movie.
A lot of people seem to have forgotten that she was even in this movie.
It was a great movie, but if it was brought back now it would HAVE to star Michael Keaton. Accept no substitutes.