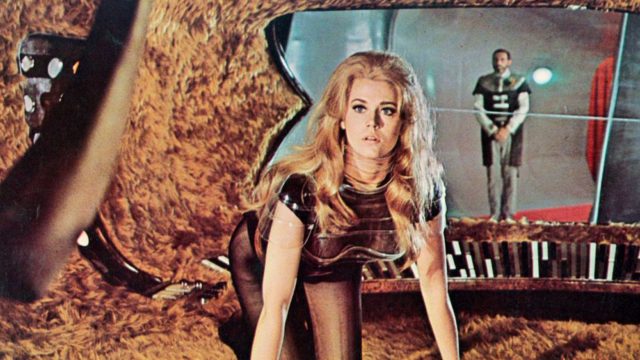 Barbarella is about sex, and recovering a positronic ray that can't be allowed to fall into the wrong hands. But it's still a lot about sex that's given out freely after the titular character achieves one milestone in her quest after another. There's plenty of science fiction in this movie but when you put a woman like Jane Fonda into a contraption called the excessive-pleasure machine, which could basically pleasure a person until their heart gives out, it's more about sex than anything. Plus, she broke the machine, so that says that the character has a pleasure threshold that's simply unbelievable. So yeah, the sex part is probably what most people remember about this film.
There was more to it, but I would lay odds that those who watched it couldn't tell you.
10. The opening scene was filmed from above Jane Fonda.
The scene used a giant sheet of plexiglass for her to lie on and had a picture of the spaceship beneath it. Then they filmed from above her to give the impression that she was floating in zero gravity.
9. The name of the missing scientist inspired the name of a popular band.
Durand Durand inspired the name of the band Duran Duran later on in the 80's.
8. The city of SoGo has a biblical reference.
The cities of Sodom and Gamorrah are the basis for the city, and judging by how it was used it was an accurate reference as well.
7. The director was interested in making a sequel but it never happened.
It was announced the year after the movie was released but either interest wasn't great enough or the studio didn't want to take a chance on another one.
6. This is the film that popularized Jane Fonda as a sex kitten.
Given that she's waltzing around in very little most of the time and lounging about in very provocative poses it's hard to see anyone disputing this label.
5. Barbarella was based on Brigitte Bardot.
Bardot was, in her time, a very attractive woman and as a result the main character was based on her.
4. Fonda was married to the director when the film was made and first released.
It might seem odd that a husband wouldn't mind seeing his wife cavorting about naked in front of others, but this is the business they both chose to be quite honest.
3. This is the only science fiction film that Fonda ever did.
She might have lost the taste for it after the backlash that could have come from being so over-sexualized in the film. Since then she's done very classy pictures and has established herself as a great actress.
2. Sophia Loren turned down the titular role.
Sophia Loren was another very attractive woman that could have easily taken this role. Despite the fun-loving attitude of the 60's however many women didn't seem to want to put themselves in this position.
1. Felicity Shagwell in Austin Powers: The Spy Who Shagged Me, was loosely based on Barbarella.
Most likely the look and the attitude were what could be attributed to Barbarella.
Let's hope a remake of this never surfaces.
Tell us what's wrong with this post? How could we improve it? :)
Let us improve this post!