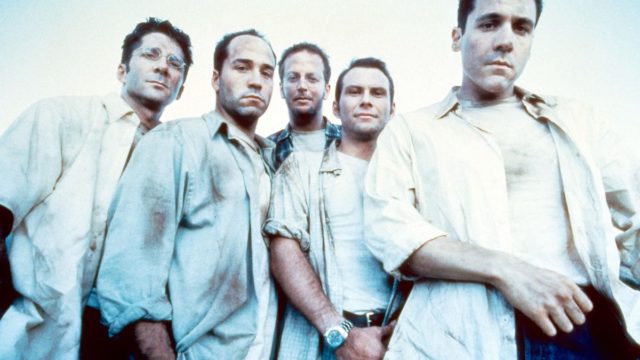 Very Bad Things is like the bachelor party you wanted but would have liked to aborted the moment things went bad. And they did go bad, very VERY bad. It's said that what happens in Vegas stays in Vegas, at least until someone with a guilty conscience can't just LET it stay in Vegas. Of course murder and dismemberment have this odd way of eating at a person's conscience until they finally crack and just have to spill the beans about what they did. Though given the background of those in the film and how unhappy that at least a few of them are they might have been better off just going their separate ways early on in the film and avoiding the kind of trouble that eventually befell them. It should be considered an omen that if your bride starts to micro-manage your friends then it's not a good idea to get married. Of course there might still be a lot of bachelor's out there today if that happened to be the case.
Not all of us get so lucky after all.
10. Adam Sandler was supposed to be part of the cast.
He couldn't make it on account of the fact that he was filming the Waterboy at the time. Jeremy Piven was the replacement.
9. The rabbi at the funeral is Jeremy Piven's father.
I wonder how hard they had to ask him to come and be a part of the movie, and how closely he was watching his son.
8. The 'F' word is used about 124 times in the movie.
That's a little over one use in ever minute and a half if you really look at it. That might seem like a lot but there films with a lot more.
7. It was deemed one of the worst films of the year.
Siskel and Ebert were never shy when it came to doling out criticism and condemning one film or another.
6. Cameron Diaz was spotted making out with the director.
This gives me the feeling that they were either casually dating or at least somewhat together at this time. At least I hope that was the case.
5. Christian Slater never answers the question as to whether he's buried a dead body before.
He get's asked roughly the same question in Heathers, but he doesn't answer it in that movie either.
4. Peter Berg, the director, uses a familiar name from another film.
The policeman in the hospital is named Randone, while Berg played a cop named Randone in the film Cop Land.
3. Slater had done a stint in rehab in 1997.
This was a little important since the guys were drinking and doing drugs right before the hooker got killed.
2. Peter Berg has a cameo in the film.
He's gets to pronounce the death of a character.
1. A law professor stated that the death of the hooker in the film would not be chargeable offense.
Everything else would be up for grabs like the drugs that were being used and the security guard that was stabbed and left to die in the bathroom.
It wasn't the best movie but it was interesting.