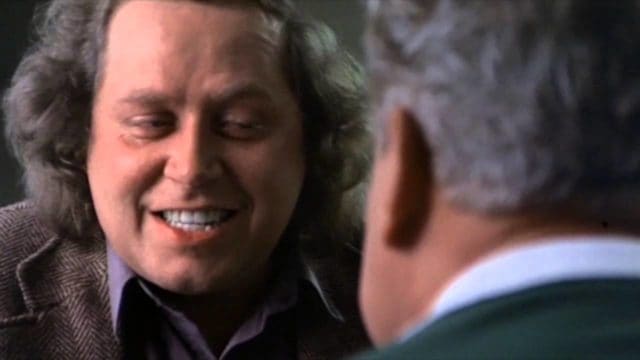 This had to be one of Rodney Dangerfield's best movies, if not THE best. I dunno, Caddyshack was pretty good but then again he wasn't the star. This film allowed him to just go nuts and do what he did in a big way. His supporting cast was great and the costars he was paired with did a wonderful job of letting him shine and adding in their own two cents as well when it was time. It had kind of a slow start to it but it got rolling quickly after a couple of minutes and it didn't stop from that point on, unless you count the brief romantic scene he had with his teacher.
How well did any of us know the movie though?
10. The original script had Thornton Melon starting out as poor.
Once Harold Ramis got a hold of it he decided it would be better to make Thornton a rich man if he was going back to college. It worked out a lot better.
9. Diane's house is the same one used in Halloween.
Once again it's kind of easy to see how certain props would be used again and again in movies. It seems like it would save time and money really.
8. The character of Thornton Melon was a truck driver as a younger man, so was Dangerfield.
There's nothing wrong with art imitating life, it gives a new depth to the characters at times and allows the actors to just be natural in their role.
7. Robert Downey Jr. was working on SNL while working on this film.
He would fly to New York and then back to LA twice in a week. That's a lot of commuting for one film it seems like.
6. There's a shot in the opening montage that shows Dangerfield golfing. This was taken from Caddyshack.
There's a good chance that most people would have missed it since the opening montage went by pretty quickly.
5. Rodney Dangerfield was very supportive of his costars.
He actually suggested certain people for various roles. Jim Carrey was almost considered for Mr. Ferguson but he was still too young at the time to be seen as right for the role, so Sam Kinison was selected.
4. The real Kurt Vonnegut had a cameo as himself.
Yep, that's really the guy and not a substitute.
3. The sound that is made when Derek messes with the sound board is the same sound as the proton packs in Ghostbusters.
It was definitely toned down when it was used in the Ghostbusters since the guys didn't break windows or mirrors whenever they switched their packs on.
2. Dangerfield is actually laughing when Sam Kinison is tearing a desk apart in front of him.
Rodney just couldn't keep a straight face when Kinison started in so Ramis decided to keep the scene and do what he could with it.
1. It was during this movie that William Zabka realized he was getting typecast as the villain in the movies he starred in.
Despite being good at the role Zabka was starting to get the feeling that he was being singled out as the villain for everything he did.
I had guessed at a few of these. How about you?
Save
Tell us what's wrong with this post? How could we improve it? :)
Let us improve this post!