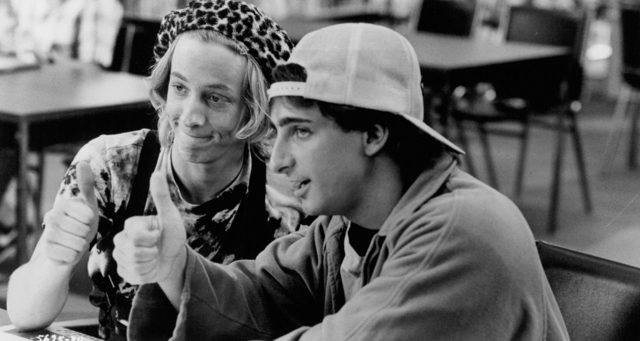 Summer School was an awesome movie. There, I've said it, it's out and I don't care who knows it. I mean come on, do you realize this stars Mark Harmon before the Gibbs era? He was actually a laid back, carefree guy in this movie and it was great. Plus, it actually stars a couple of other personalities you might recognize and has one of the absolute best gore scenes in a comedy that anyone has ever seen, period. No one likes to go to summer school unless they're secretly an emotional masochist, but this film was just too great for words really. The only issue is that it's vastly underrated and was for its own time as well.
Here are a few things from the film that you might find interesting.
10. It used the same school from Karate Kid.
Look at the layout of the school and you'll see that it's spot on. Hollywood tends to use what sets and locations it can as often as possible.
9. Paramount has been trying to remake this movie for a while.
They thought they had it in 2010 and 2012 but this movie was akin to a lightning strike, it might never come again in the same way.
8. Mark Harmon was brought in as the lead because of his charming personality.
Imagine Gibbs smiling and having a good time with everyone. It just doesn't compute at this point and time does it?
7. The byline on the movie poster wasn't exactly a winning description of teachers.
It basically points out that teachers hate homework, are always waiting for summer vacation, and love to cut classes. Not a winning description for the educators of America.
6. Harmon actually wrote a James Brown song title and sang the song for the class in a deleted scene.
Poppa's Got A Brand New Bag is written on the board during one deleted scene, and it's apparent that Harmon's been singing the song.
5. There were hundreds of young people auditioning for the role of the high school students.
The director wanted just the right people for the film, and he knew them when he saw them who they were.
4. This was Kirstie Alley's first big role in a US film.
That might seem unbelievable but it's true.
3. This is one of two films that the director worked on that had Summer in the title.
The other movie was Summer Rental with John Candy. Just like Summer School it was an underrated hit that was insanely funny.
2. A lot of the actors in this film were also in 21 Jump Street.
The show mind you, not the movie. Most of the people in this film are at this point just way too old to be playing high school or even college students.
1. Mark Harmon played quarterback at UCLA in the 70's.
This was why he was able to help one of his students with football so convincingly, he'd been there and done that back in his day.
Summer School was definitely one of the best movies ever made, even if no one else seems to think so.