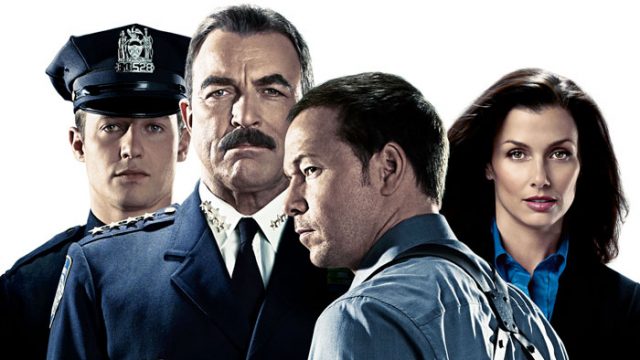 Let's face it, Every TV cop show that has ever had the word "blue" in its title has been great. Remember " Hill Street Blues", "NYPD Blue", "Rookie Blue", or "Shades of Blue"? All great television cop dramas, but none of them was ever quite as good as "Blue Bloods". The show's first air date was September 24, 2010, and it's still going strong today. If we're lucky, it'll be one show that never gets canceled. One can only hope, right?
The writing is phenomenal, the sets so realistic that you feel like you're there, the directing sublime, the action insane, but more than anything else, the acting is top quality across the board. Every single character is well-rounded, sympathetic, and yet still exceedingly street-smart. The streets of New York would probably be a whole lot safer if this bunch actually existed. So, that being said, here are the 10 Reasons Blue Bloods is the Best Cop Show on TV:
1. Tom Selleck as Frank Reagan
We could sum the entire 10 reasons Blue Bloods is the best cop top show on TV by just saying "Tom Selleck" ten times. But, although he's the stuff that legends are made of and undoubtedly the star of the show, there really are some other great actors and actresses that round out the Blue Bloods cast. But, more about them later.
Ever since "Magnum P.I.", Tom Selleck has been an American icon. Women loved him and men wanted to be him. And, where Magnum was a tongue-in-cheek, funny, playful, sexy character, Frank Reagan isn't all of those things in Blue Bloods, just the latter. He plays the New York Police Commissioner but is also the Reagan family patriarch.
Tom's performances on the show are spot-on no matter what happens in the precinct, at One Police Plaza or at home. He leads with an iron fist no matter where he is, but also with an innate sense of what's right and a sensitivity that is amazing. He cares about everyone and just about everyone respects him to the end with the possible exception of the mayor at times.
2. Donnie Wahlberg as Danny Reagan
The Reagans are a multigenerational cop family and the very popular Donnie Wahlberg plays Danny Reagan, who is Frank's oldest son. He's also a veteran of the Iraqi War and a seasoned NYPD detective who is known for occasionally using some dubious tactics when solving cases. Underneath that tough exterior and all that bravado though lies a caring family man who loves his wife. She is an attractive ER nurse named Linda played by Amy Carlson.
They have two sons, Sean and Jack, played by two real-life brothers, Andrew and Tony Terraciano. Donnie adds an air of excitement to every scene that he is in on Blue Bloods. Excitement is nothing new to Donnie, though, since he's also a member of the wildly popular boy band, New Kids on the Block, and has screaming female fans going crazy to this day.
In fact, they have just recently announced a new 2018 summer tour with Paula Abdul and Boyz II Men. Let's face it, whether it's Donnie or his brother Mark, don't they both make you want to head east and go to Boston just to check out Wahlburgers?
3. Bridget Moynahan as Erin Reagan
Frank's grown daughter Erin is the local ADA and is deftly played by Bridget Moynahan. She also adds some romantic interest to several shows, whether she's getting back together with her handsome husband or dating someone new. Erin is tough but fair in her role as ADA, as well as being a wonderful mother. She's divorced and has a teenage daughter named Nicole, played by Sami Gayle, who also just happens to be ranked among the top nationwide debaters, in addition to being a very talented actress.
She really gets to show off that talent in one specific episode when she's kidnapped by a crazed serial killer who is taunting her uncle Danny and just begging to be shot to death. He gets his wish, BTW. But, most of the time, she just adds that young people appeal to the show by showing how she handles those growing pains that all kids go through.
4. Will Estes as Jamie Reagan
Frank's other son, Jamie Reagan, is played by Will Estes, whose older brother Joe was murdered. Jamie graduated from Harvard Law but decided to follow in Frank, Danny, Joe, and Grandpa Reagan's footsteps and become a cop instead of an attorney. He's a very sympathetic character and a good cop who is always trying to help out the underdog and other people in need. There is also a palpable unspoken love affair going on underneath it all between Jamie and his lovely female partner, Eddie Janko, played by Vanessa Ray. The banter between the two is adorable and someday in the future maybe they'll become an even more adorable couple.
5. Len Cariou as Retired NYPD Commissioner Reagan
Len Cariou plays Frank's father who is the retired police commissioner. He adds a special feeling of warmth and wisdom to the signature Reagan family Sunday dinners. The entire family sits around the massive dining room table and re-hashes the day's trials and tribulations, each adding their own special brand of logic to every situation. They say the perfect Irish Catholic grace before each family meal and show what being a real family means. It's a great lesson for both young and old and successfully teaches us all a little something about right and wrong, basic humanity and the law, without cramming it down our throats.
6. Supporting Cast
Even though the show has the innumerable talents of Selleck, Wahlberg, Moynahan, Estes, Cariou and the rest of the Reagan family, it wouldn't be nearly as good without the members of the supporting cast. Robert Clohessy, Gregory Jbara, David Ramsey, and Steve Schirripa all add their own special brand of acting talent to the Blue Bloods landscape.
7. Guest Stars
Another key detail of this great show is its amazing cast of guest stars. The producers and casting directors at Blue Bloods have a penchant for picking some of the very best to guest star on their show. They include "Sopranos" veteran, Michael Imperioli, plus Robert Lewis, Treat Williams, ER's Anthony Edwards, and Annabella Sciorra, just to name a few of the best-known actors and actresses who have graced the show as guest stars.
8. Writers & Directors
We all know that any TV show is only as good as the writers who create the scripts week after week, season after season. One of them is Siobhan Byrne O'Connor, who is not only a devout Irish Catholic but also someone who has personal experience with marrying into a family full of cops. Along with Robin Green, Ian Biederman, Brian Burns, Kevin Wade, Daniel Truly, Willie Reale, and Mitchell Burgess, she is credited with being responsible for all of those magnificent shooting scripts. And, the show could never be the monster hit that it is without its long list of 11 directors from veteran director Michael Pressman to Emmy-nominated Robert Harmon, who is probably best know for directing the horror classic "The Hitcher" with Rutger Hauer.
9. The Creators and Producers of Blue Bloods
Any good premise for a hit TV show started originally with its creators. Those amazing people who came up with an excellent idea and then got it produced. Not an easy task even for very creative people like series creators Mitchell Burgess, Siobhan Byrne O'Connor, and Robin Green. Along with fellow executive producers Leonard Goldberg, Brian Burns, Ian Biederman, and Kevin Wade, as well as Producers Fred Keller and David Barrett, they have brought the realism of the NYPD, its officers and their families to the small screen in a big way.
10. Superior Ratings
All in all, BlueBloods is the most popular cop show on television because it's relatable, well-written, produced and directed, as well as extremely exciting. And, now in their seventh season, they definitely have the ratings to prove it. The ratings overall have held steady for the entire series. Their lowest total viewers for any of the Blue Bloods shows was 9.77 million viewers for season three's episode two, making it the only episode having less than 10 million viewers except for season 6's 6th episode called "Rush to Judgment", which garnered 9.7 million viewers.
All of the rest of the episodes have had more than 10 million viewers. The highest number of viewers was 12.93 million for season 4's episode 4 and it was also the 81st Blue Bloods episode. A press release from CBS in 2013, recounted the fact that the series had more than 13 million viewers and had gained 8% more over the 2012 season, a first among scripted series airing on Fridays.