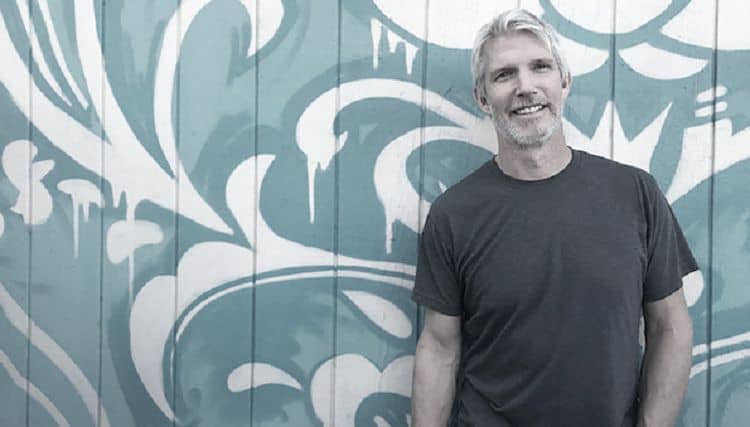 New Era Entertainment's horror-thriller F.E.A.R. (Forget Everything and Run) was released this week on VOD and to celebrate we wanted to learn more about one of the film's creatives, cinematographer Jimmy Matlosz. Below we asked Jimmy ten questions about everything from his experience on F.E.A.R. to working on The Nightmare Before Christmas.
-Your new film, F.E.A.R. (Forget Everything and Run) is out now. What are you most proud of with that film?
As the cinematographer of the film, I am proud of how well the shoot went with a crew I had just met a few days before. But more importantly, the application of all I have learned over the years in lighting camera work and set etiquette, it really came to fruition on this film and as I more recently returned to narrative from work in commercials. It was such a breath of fresh air and a homecoming of sorts.
-Is there a scene in F.E.A.R. that didn't look complicated, but actually was to shoot?
That's a tough one for me to answer, but in thinking about that, I'd say the barn scene with Jason and Justin was the most challenging, due to time, money and schedule. We shot day for night interior so most of the light used was daylight slipping through cracks in the wood and the ambient light created by that. As the day moved to night, we had to supplement more and more with lights, attempting to emulate the intensity and exposure of daylight with lighting, our lighting budget was limited and with that our possible angles to tell the story became limited, mostly because I had to choose angles wisely in regards to what we saw and didn't see due to lack of light.
-Did anything unexpected happen during the film of F.E.A.R. that caused you to pivot in one way or another, and actually ended up working out to your advantage?
The blizzard like conditions on day 1 was an absolute blessing, this is the scene where Marci is dragging a body to the barn and Jason comes to help. When we scouted, it was clear blue skies, and while I wasn't thrilled about that, what can you do. The snow started coming down the night before and I'm sure I was challenged to hold in my excitement for the visual possibilities, no amount of money can supply you with that sort of production design. Luckily, I have had plenty of experience working and even living in snowy conditions, so for me it was barely a speed bump and I relayed that to the producers and crew that I was confident this would be amazing for the film. What it really did was not only deliver an epic dramatic scene, but raised the bar for all involved, it brought us together and set a standard for the type of film we were making.
-You garnered three cinematography awards for your work on the film Oedipus, which premiered at Sundance. What about your cinematography on that film was so striking?
Oedipus was Stop Motion, the first of its kind that I am aware of, captured on DSLR and projected in 35mm. I was only a few years off working on The Nightmare before Christmas, so the style, technique and possibilities were all fresh in my mind. I had learned so much about moving the camera and treating stop motion like I would live action. Jason Wishnow, who directed the film, and I had so much fun paying homage to films like Lawrence of Arabia and indie cinema like Pulp Fiction, but also developing a lot of our own ideas for the film. So moving the camera, creating dynamic shots and lighting dramatically, not being afraid of the dark, were key to delivering a film that felt epic in scale.
-In your bio you mention that you worked on Tim Burton's The Nightmare Before Christmas. Can you talk about what you did on that film?
I think I kind of answered this before, but if I may, I was the youngest AC on Nightmare, just 26 when I started. I landed the job through my friend Eric Swensen, who taught me how to be an AC. I spent 10 months in San Francisco assisting Jo Carson, the only woman camera operator on the show. Curiously, I was only 2 years out of college and had only been freelancing for 9 months prior to this. Working on this film changed my life and career in so many ways and to this day. Our biggest scene in the film is Jack's lament, which is when Jack crashes in the graveyard, that is where I also started on the show, nothing like trial by fire. Of course, that film is now close to 30 years old, I have remained friendly with a handful of people from the show, last year I was invited to the We Know Jack Podcast to talk about my experience on the show, hosted by Kat Alioshin and Todd Lookinland. Additionally, cinematographer Pete Kozachik just released a book a week ago, which includes his experience making Nightmare, Tale's From The Pumpkin Kings Cameraman. I was lucky enough to contribute some of my own photos and help Pete and his wife Katy wrangle some additional BTS pix, honestly there aren't enough nice and generous words to describe Pete, he is a true artists, scientist and gentleman. I hope that didn't sound like a shameless promotion, it's merely a sharing of cool things related to the show. Lastly, since that time I get a call to shoot stop motion about once every 6-8 years.
-You lensed the first ever IMAX student film, The Princess and The Pea. How did you get involved with this? Where can people watch this?
Ah yes, another amazing creative endeavor, directed and written by Curtis Linton, this was such a blessing. I met Curtis briefly on All Access which was an IMAX rock n roll film. I was then referred back to Curtis by Rodney Taylor ASC, when he couldn't shoot the film. We shot on real film on real IMAX cameras in the desert of Utah and Southern California. Curtis went all out and the hope was to create the possibility of fairytale films being produced in IMAX. As I did with Oedipus, I approached the film with a classic cinematic sensibility and yes even drawing from the work on Nightmare. I have a copy of the film on my vimeo page, https://vimeo.com/ 118728430 , which is sadly reformatted from a 3/4" video copy of the print. Perhaps one day, either Curtis or I will have the capital to digitize it properly, I only saw it projected once.
-In your bio, it says you have an "organic style" and approach. You can elaborate on this?
Damn, you had to call me out on that, lol. I guess I would say that I am not heavy handed, that I like to embrace a natural feeling of lighting and motivated camera moves, avoiding calling attention to my work. There has been a return with digital cinematography for using no lights or minimalist, I've been doing this since I was in college, it's my style. But IMHO, a scene still needs to be lit to be cinematic, of course there are those occasions where it's just perfect the way it is, but that is rare. So what I do is embrace the light from real sources: windows, practicals and such then add shape and accents to give it depth and dimension, or course there are many times when I add a random light for style or the fun of it, but even those times I feel like I am serving the visuals and story effectively. It's really hard to put in exact words, I often compare it to cooking, if you've done it long enough you know just the right amount of spice to add without thinking about it, it just makes sense somehow.
-Was there a specific film you saw that made you want to become a cinematographer?
Funny, I always return to JAWS, I was just a kid when I saw it, I didn't even know humans made films for many years after, meaning I had no idea where they came from or how they were made, that film still speaks to be to this day, in regards to beautiful natural motivated camera work. Later I guess it would be films like Empire Strikes Back and Apocalypse Now that made me aware of what cinematography was and then as time progressed further, you see a film like The Assassination of Jesse James by the Coward Robert Ford and you yearn to make something as beautiful.
-You have shot close to 300 commercials. Out of all those commercials, does one stick out to you the most? Why?
Shooting Lebron James at 1000fps slam dunking in a homage to the old Nike spot with Michael Jordan. So many cool things about it. The pitch was, it's just an ordinary day, Lebron returns to his High School Gym and slams from a leap off the free throw line. I convened with my Gaffer Stuart Cropley, we came up with a lighting plan, it had to look natural, leaning on my style of 'organic' yet lit with close to 300 thousand watts of light in a small gym. We lit the scene based on our concept. We shot 2 tests with possible styles of lighting, achieved through turning certain lights on or off. We presented the test and the response was… 'great which one do you like?' It's times like that where you feel great about what you do and how you do it and maybe, just maybe you know what you are doing. Additionally, and this is cool, the camera I was on dominated the commercial, we were on Dolly track along the sideline tracking with Lebron, we then turned the corner to follow him to the net, oh and you only get maybe 2-3 takes. First take the entire crew from dolly grip to focus puller Jeff Caples and even my framing we nailed it. The Nike Team was stoked, then they said 'hey can you do that again with a close up on his feet?'… We nailed that one too!
-What would be your dream film to work on?
It hasn't been made yet, I assume you mean genre or style. There are so many, but I would say a great script, I know relative. A film with strong characters, a voice, a message and certainly a quirky style. I love quirky British films. In comparison, a western like Jesse James, an adventure like Stand By Me, a thriller like Jaws, Science Fiction like Close Encounters, or a drama like Dead Poets Society all of these films lead with characters and plot and only rely on spectacle for accent.
Tell us what's wrong with this post? How could we improve it? :)
Let us improve this post!