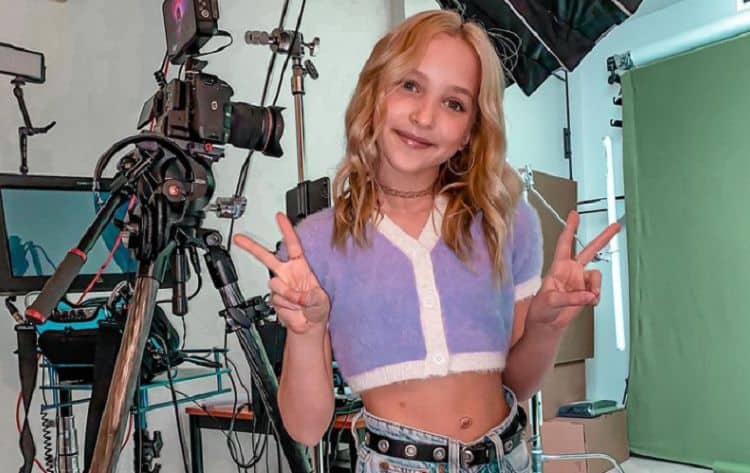 Lilliana Ketchman first started to gain recognition in 2015 when she started a YouTube channel which featured videos of her dancing. Her content quickly started to get hundreds of thousands — and eventually millions — of views. She was eventually discovered by well-known dance instructor and reality TV star, Abby Lee Miller. In 2016, Lilliana gained even more popularity when she appeared as a cast member on Dance Moms. After being on the show for three years, Lilliana had become a major star. Now 12-years-old, Lilliana has fans all over the world and her popularity is still on the rise. It'll be interesting to see how things pan out for her as she gets older. Continue reading to learn 10 things about Lilliana Ketchman.
1. Her Parents Are Also Musically Talented
Lilliana may be the only person in her family to make a career out of dancing, but she isn't the only one to be drawn to music. Her mother was also a dancer and her father plays piano. Both of her parents work as psychologists and have been very supportive of her career. In fact, her mother runs her social media accounts.
2. She Has Been In Music Videos
Between the internet and Dance Moms, Lilliana has gotten lots of cool opportunities over the year. She has been in music videos for artists like Jojo Siwa, Azalea Carey, Sia. As her career continues to grow, Lilliana will likely get the opportunity to do even more videos.
3. Her YouTube Channel Has Hundreds Of Millions Of Views
Most people are aware of the fact that Lilliana has a lot of subscribers on YouTube, but what they don't tend to think about is the number of views. While 2.63 million subscribers is certainly something to be proud of, the fact that her channel has gotten more than 220 million views is incredibly impressive.
4. She Has Acting Experience
Dance will always be Lilliana's first love, but she's ready to expand her reach. She made her acting debut in 2017 in a TV series called Giggles Talk. Since then she has gotten a handful of other acting opportunities in TV and film. She is currently working on a movie called Game Changer.
5. She Also Used To Do Gymnastics
In addition to dancing, Lilliana also did gymnastics when she was younger. During an interview with Pop Culturalist Lilliana said, " When I was about to turn five, I was offered to be on the "team" at both my dance studio and my gym, so I had to choose at that young age which I wanted to do more. I think I made the right decision with dance!"
6. Ballet And Contemporary Are Her Favorite Styles Of Dance
Lilliana is a very versatile dancer and she has covered a variety of genres over the years. Out of everything she's done, however, she told Pop Culturalist that ballet and contemporary are the styles she likes the most. She particularly enjoys ballet because it really puts her skills to the test.
7. She Has Been Going To School Online Since 3rd Grade
Lilliana has spent most of her life in the spotlight which means that she hasn't been able to lead a 'normal' life. Instead of a traditional school experience, she has had to do things a little differently. After second grade, she stopped attending public school and has been doing online learning ever since.
8. She Has Done Brand Partnerships
At just 12-years-old, Lilliana has a bigger social media presence than most people will ever have. Thanks to her large and dedicated following, Lilliana has gotten the chance to collaborate with several companies to help promote their products and services.
9. She Loves Giving Gifts
Most kids love the holiday season because they look forward to getting gifts from their loved ones. Lilliana, however, actually prefers to give gifts. In a video on her YouTube channel she revealed that giving gifts is one of her favorite things to do and she loves being able to put smiles on people's faces by giving them gifts she knows they will love and appreciate.
10. She Likes To Sing
Dance is the first thing that comes to mind when most people think of Lilliana, but it may not be the only musical talent she has. While talking to Pop Culturalist she shared that she also loves to sing and she's pretty good at it. At this point, singing hasn't been anything more than a hobby to Lilliana and she doesn't appear to have plans to pursue it on a professional level. If the opportunity arrises though, there's no doubt that she'll be ready.