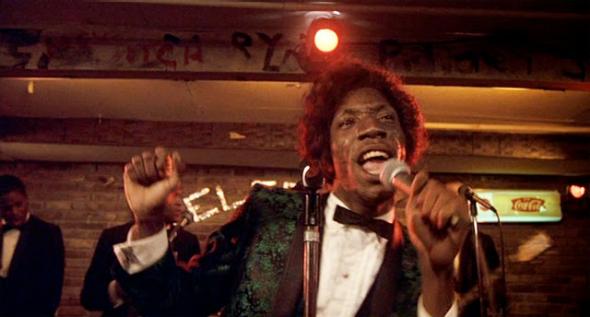 One thing about movies that's way better than real life is the bands that play at parties, bars, or special events. In real life, you're usually stuck listening to a couple of teenagers who know about four chords between the two of them, or maybe a washed-up, tone deaf singer at a Bar Mitzvah. In movies, though, the bands undoubtedly rock the party and send everyone into a frenzy. Maybe that's because it's a real life band, either playing as themselves or under some fictional name created for the purposes of the movie.
I found 10 clips of awesome band cameos in movies and posted them with my comments, so enjoy. As an aside, I avoided solo artists like Madonna and tried to focus instead on groups or bands, and I also wanted clips where bands play or perform as opposed to simply appearing.
Oingo Boingo – Back to School
Oingo Boingo is perhaps the quintessential 80s bands. They performed the song "Weird Science" for the movie of the same name and can be seen in the above clip performing "Dead Man's Party" at a Grand Lakes University party with Thornton Melon. I've always liked my roommate, but when he told he that he loves "Dead Man's Party," I started to have thoughts that went beyond platonic. It's only natural.
Morris Day and The Time – Jay and Silent Bob Strike Back
Morris Day is one of the coolest dudes alive; he's like a masculine Prince. He had a small role in The Adventures of Ford Fairlane, but to really appreciate the man, check out his performance in the above clip. A great way to end a hilarious movie.
The Dan Band – Old School
Remember the "Total Eclipse of the Heart" during the wedding scene in Old School? Sure, the cursing is funny, but for me it's how intense the lead singer gets that makes the scene so hilarious.
Queens of the Stone Age – Hot Rod
One of the most underrated bands in rock performing in one of the most underrated comedy movies. Josh Homme is one of the most talented guys working in music today, and his mere association with Andy Samberg, Bill Hader,and Danny McBride also makes him one of the coolest.
Twisted Sister – Pee-wee's Big Adventure
Dee Snider and the rest of Twisted Sister is seen here taping the video for "Burn in Hell" and things seem to be going fine before a public man-child, Godzilla, and Santa's sleigh suddenly explode onto the scene.
The Mighty Mighty Bosstones – Clueless
Here's the clip where Cher (Alicia Silverstone) takes Josh (Paul Rudd) to a party where the Mighty Mighty Bosstones are performing (and Rudd hops around like a total jackass). Alicia Silverstone in this movie is flawless.
Otis Day and The Knights – Animal House
According to wikipedia, Otis Day and The Knights were a fictional band created for the purposes of Animal House, and the success of the movie led them to start performing for real. The toga party scene is the greatest party scene in any movie, ever.
AC/DC – Private Parts
Private Parts was a surprisingly good movie, and it was capped off with a great performance by AC/DC. Nothing fancy, just some hard chords and a lot of screaming. Really, I don't know how Brian Johnson can perform more than three songs in a row without his throat bleeding.
Green Day – The Simpsons Movie
Sure, they're animated, but it's the likeness of Green Day and they did lend their voices and music to the movie, so it counts as a cameo.
Alice in Chains – Singles
The superior Pearl Jam appear in Singles as members of Cliff Poncier's fictional band Citizen Dick, and Chris Cornell of Soundgarden has a cameo as well, but it's Alice in Chains that actually perform in the movie.
I am sure there are some band cameos in movies I may have left out, so let me know which ones I missed and that you really like in the comments section.
Tell us what's wrong with this post? How could we improve it? :)
Let us improve this post!