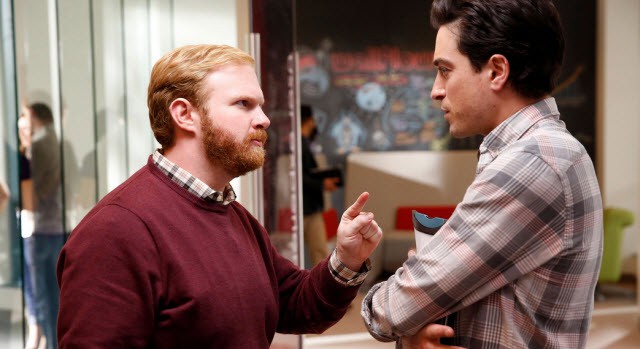 Romantic comedy cliches are to be expected on a show that told us right off the bat how long this couple will date. In fact, A to Z is embracing all the cliches rather than trying to reinvent the wheel.
Andrew is the hopeless romantic who will make his feelings known, but of course his goofy best friend Stu advises him to dial it down a notch. When Andrew remembers he committed to a date with Brooke from work, he worries about whether or not to go through with it because of how much he really likes Zelda. That's where Stu comes in to point out that it's a little too premature to be doodling "Zeldrew" all over papers.
Andrew justifies going on the date as long as he tells Zelda about it first. She's definitely into him but not one to allow herself to get attached. She doesn't even let him finish his sentence when she already says she has a date too. What a coincidence!
Their dates are disastrous, especially since Zelda didn't actually have one planned. She was also following her sidekick's advice to find a date for herself. Mike from her law firm is a dud but he played a big role in a classic rom-com misunderstanding. Andrew left his date (who admitted she was using him to make her ex jealous) and ran over to Zelda's house, only to have her date answer the door wearing only a towel.
After a very awkward conversation of skirting around the obvious questions and answers they want to blurt out to each other, Andrew and Zelda are finally honest about their feelings. Luckily they find they're both on the same page and agree to be exclusive.
The episode title of "B is for Big Glory" comes from an old habit of Andrew's to hear a song play in his head when he's extremely happy. (In his case, the song is the end credits from one of his favorite TV shows, "This Week in Baseball.") As cheesy as it sounds, he admits to Zelda that he's had a song playing on loop since he met her. By the end of the episode, the narrator shares that now Zelda has her own Big Glory song.
Ben Falcone made his debut as Howard, the HR rep at Wallflower. He's strongly opposed to Lydia's insistence that the employees beta test their new app that's very similar to Tinder, only instead of swiping you tap if you like someone. It was especially funny when Big Bird complained to Dinesh that he must have screwed up in the programming because she hasn't received any taps.
Everything about this episode was so cute, from the personalized souvenir license plates to the Big Glory songs. The backfiring of the Wallflower office beta testing the app added to the comedy aspects. Howard is already my new favorite character!
How are you liking A to Z so far?
[Photo via NBC]