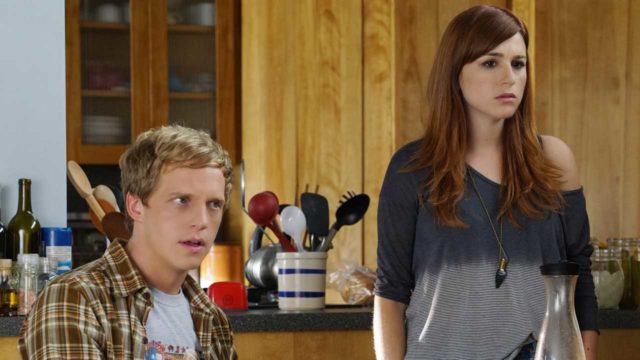 You're the Worst, the critically-acclaimed comedy series from creator and showrunner Stephen Falk, has been renewed for a fifth and final season, it was announced today by Nick Grad and Eric Schrier, Presidents of Original Programming of FX Networks and FX Productions. Falk and FX Networks jointly decided to make the fifth season, which will air on FXX in 2018, the series' finale.
"Stephen Falk has been an extraordinary creative partner to work with over the past four years, and it is in that spirit that we came to the mutual decision to end You're the Worst with its fifth season," said Grad in a statement. "Stephen's singular vision for the series has been its guiding force from the start and our decision, while difficult, will allow the series to end on its own terms and in a way most satisfying to its devoted fans. We want to thank Stephen, the cast and the crew for everything they've done to make You're the Worst one of the best comedies on TV."
"Making You're The Worst has been an incredible experience and FX Networks have been dream partners," said Falk. "I am thankful to have the opportunity to be thoroughly judged whether or not we 'stick the landing' — which is a thing people say now that stupid Breaking Bad had to end so damn perfectly."
An original comedy from writer and executive producer Falk, You're the Worst puts a dark twist on the romantic comedy genre. Narcissistic, brash, and stubborn Jimmy Shive-Overly (Chris Geere) has inadvertently found himself paired up with cynical, people-pleasing, and self-destructive Gretchen Cutler (Aya Cash). After a whirlwind courtship, and a very rough post-cohabitation period of dealing with Gretchen's clinical depression, Jimmy and Gretchen were forced to learn how to manage a relationship in the face of tragedy when Jimmy's father unexpectedly died. Ultimately, drawn closer, Jimmy proposed and then suddenly disappeared when confronted with the notion that Gretchen would be his family. Now broken up, and involved with other people, both struggle to move on while constantly being pulled back toward one another.
Rounding out the cast is Desmin Borges, who plays Edgar Quintero, Jimmy's once homeless war veteran roommate who, having recently learned to manage his PTSD, has gotten a new job and is navigating the world of television comedy writing; and Kether Donohue as Lindsay Jillian, Gretchen's best friend and former partner in crime who is recently divorced and taking her first steps toward life as a single, professional woman.
You're the Worst is produced by FX Productions.