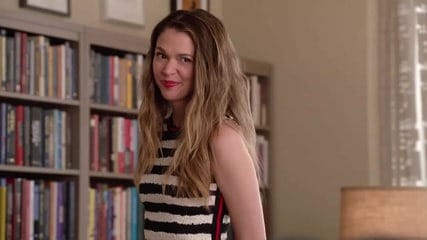 Last week's Younger ended with Josh's jaw-dropping confession to Liza provoked by some professional anger towards Kelsey, and nobody's mind is straight. What do you do when you've humiliated yourself? Take a mental health day. To some this may sound very prima donna, but when you don't know what to do, the best course of action is to do nothing. The alternative is to make an even more impulsive decision that could have greater consequences. So Kelsey takes off, as does Charles, leaving Liza to hold down the fort. 24 hours meant to give everyone time and space to think ends with gargantuan moments for the show.
After losing one of Empirical's biggest clients and getting yelled at by her boss, Kelsey needs a day to reboot. Running away to a house on the water with Lauren and Josh seems like just the ticket. Boy, oh boy, do things spin out of control from there. Surrounded by more phallic household objects than I thought was possible, not to mention Lauren's so-called knowledge of what the universe wills, Josh and Kelsey are pulled into temptation. Kelsey's right to pull away, and she's also right about the reasons. Proximity and circumstance made this kiss inevitable, but it might have been what was needed in order for both Josh and Kelsey to know it isn't right.
With Kelsey and Charles out of the office, Liza's workload is full. Liza takes Kelsey's place at PitchFest, which is mostly a bust. She does walk away with what Jay calls "a diamond in the rough". The story of a woman who gives up her career to be a wife and mother, then feels stifled as she loses her identity, definitely appeals to Liza. Unbeknownst to her, the author, Pauline Turner, is Charles's ex-wife. Did I mention she discovers this moments after they almost consummate on his desk? The room quickly cools, and it looks like Pauline and her book aren't going away. Once again, Liza is headed for another love triangle.
Did Josh and Kelsey do the right thing? Is Liza's love life taking an unfavorable turn?
Save
Younger Season 4 Episode 7 Review: "Fever Pitch"
Summary
Every kiss has a meaning, and two different Younger twosomes decided to explore their chemistry with different results.