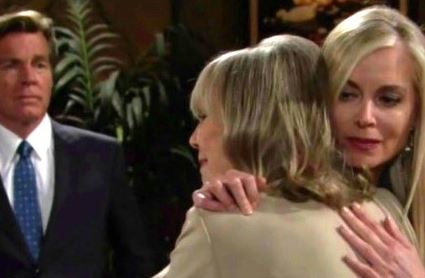 Young and the Restless fans aren't sure Dina is going to live much longer. Her health is rapidly declining, she's lost most of her memory and she's losing her mind, but what is going to happen if she can't remember that her granddaughter, Abby, was in the car with her when she was kidnapped? She has all the memories of the ride they took, where the car went, and every other detail that can help her family and the Newmans find Abby, but she has not mentioned even once that Abby was with her.
As Victor and Jack and their families scramble to try and find Abby, Dina has all the answers. Will she end up passing before she can share with them where to find the missing girl? Can Zack hurt her before Dina has a chance to remember that Abby was with her? Or will it end up being some sort of deathbed confession later on?
We don't know if she will remember in time to save her, but we suspect she will. Or perhaps they will find her and Dina will pipe up with a casual, "Oh, yeah. That's right. She was with me when I was missing and I've known her location the entire time. Why didn't you just ask?" kind of comment. It could go either way, but we have very few ways to know until it happens. We know Abby will be just fine, but we don't know how or when she will be rescued.