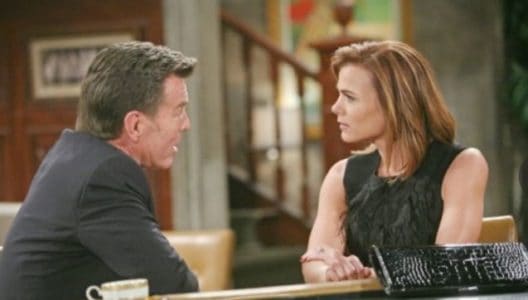 Young and the Restless spoilers are all about Victor right now. Now that Nick overheard him working with Chloe, the woman who killed Adam, he's going to tell everyone in the Newman family. We all know that Victor Newman is the most powerful man in the entire city, and he rarely ever faces any issues for the things he does. We all know he doesn't suffer at all. He waves around a little money, bribes people or blackmails them, and he gets what he wants. But this is different. Adam might have had his issues when he was alive, but people loved him so much. He was a man everyone loved to spend time with, to talk to, and to be with. And now everyone knows that Victor is the one who set him up and plotted his death.
Nick isn't keeping this to himself, and Victor's entire life is going to go up in flames at this point. He's going to lose it all temporarily. In fact, his own family makes the decision to get rid of him in their family, and it's a horrible situation. They want him to know he's not welcome here. He cannot be a part of their lives anymore. In fact, there is going to be a time this week when Nikki decides he's no longer related to them. For the first time in his life, Victor Newman is dead to his family. They cannot forgive them.
He cannot see the actual outcome of this entire situation, and it's not good for anyone involved. Will the return of Adam in May — because we hear he will be back just in time for May Sweeps — shed some light onto what Victor did, why he did it, and what is going on in his life? Will this make his family want to bring him back into the family, or will it make them hate him even more? Right now, there is no happy ending in sight for Victor Newman, and there is no amount of money that can make his family want to be with him ever again.