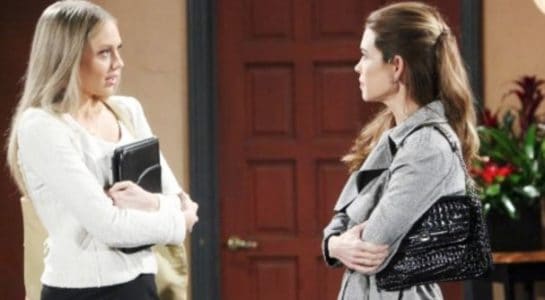 Young and the Restless spoilers for the upcoming week are going to cause Nick to have a moment. He's now in the hangar where he found Chloe and Victor together. He knows she's trying to get out of town after he put the pieces together and realized she is the one who killed his brother Adam, and he's not happy. When Chelsea found his wedding ring in Chloe's house, he knew that things were going from bad to worse, and he followed her using a GPS tracking device he'd previously placed on her car. Now he's got her red-handed trying to escape. Imagine his surprise when he finds Victor in the hangar with her, which is nothing compared to the shock he will feel when he hears what Chloe says to Victor.
He's going to hear Chloe tell Victor that Chelsea found the evidence they used to frame Adam, and she's going to tell him this means bad news for him, too, since the evidence shows his involvement in the mess. Nick is going to be so shocked that he heard this. He never would have suspected Victor would have anything to do with the fact that Adam is dead and gone — and now he has this information and no idea what to do with any of it. Will he be able to get past security now that he's in the airport where he should not be, or will Victor and Chloe find him there and make him pay?
Meanwhile, Chloe's wedding is definitely not happening since she ran out in her wedding dress. The press is in the mansion, and things are going from bad to worse. Chelsea is awake and she's really upset. She wants to make sure everyone in the entire city knows just what her alleged friend did to her, to Adam, and to so many people who loved him so much. She's in front of the camera next week, and she's not happy. This means she's holding nothing back, and we wonder what she will tell the world about her former friend and her involvement in Adam's death.