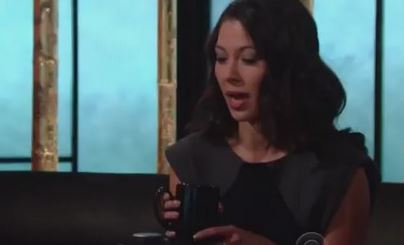 Young and the Restless spoilers tells us things are not going well for Juliet. She was fired on Friday, and she's going to be good and drunk on Monday. Before we get into next weeks' spoilers for the show, we have to wonder what she might do. She's in a bad place right now, and we have a feeling it's not going to get any better as Hilary joins her at the bar and offers to buy drinks if Juliet will just hear her out. Since we do not believe Hilary is there to apologize for all she did to Juliet with her secret, it has to be something devious and inappropriate.
Hilary already gave Lily a flash drive with Juliet admitting their one-night stand, but Cane got to it first and destroyed it. Now that Hilary is aware of her plan going all kinds of wrong, she's going to enlist the help of Juliet to get back at Cane, and it won't be difficult to persuade her to try now that Cane's fired her and she's the only one suffering for his poor choices. Sure, she was part of that poor choice knowing full well he was a married man when she went to bed with him, but Hilary will manage to convince her she's entirely innocent.
Will these two work together to take down Cane? And how will they do it? Will they tell Lily what happened, or will they work on a plan to get Cane to confess so they can record it again? Will they become friendly through this process, or will they both find a way to get what they want out of this? There is a chance they might take themselves down first, but Hilary is sure her plan is perfect.
Tell us what's wrong with this post? How could we improve it? :)
Let us improve this post!