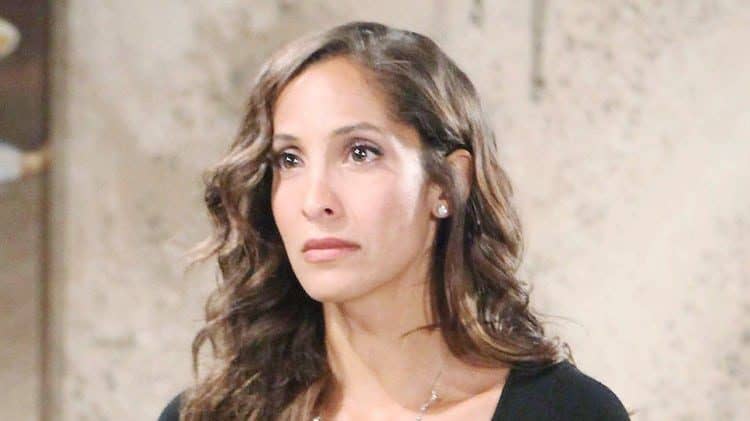 Young and the Restless fans aren't surprised when there is big news to share, but we have some very exciting news to share with you. This is a day where we are taking some time to bring you information and news you might not get otherwise. It's not a standard spoiler. It's not a list of the best or the worst or the most confusing or whatever. It's a list of things that are happening we think you might want to know a bit more about. Sure, you've probably already heard some of these rumors, but did you know that there is more to them than meets the eye? You didn't, and we did. So, we are bringing you everything you wanted to know, and the things you didn't even know you wanted to know.
Christel Khalil is Back
It's not like it's been a big secret that Lily had a bad year. She was in a major showdown with woman who was carrying her own brother's baby, and then they were in a car accident that was caused by Lily. She did not mean to cause it, of course, but it did happen. She caused it, it was a thing, and we cannot get over how horrible it was. That accident killed her brother's wife, it killed their baby, and it caused her to spend a year in prison. Her absence from the lives of her family let her husband think it was all right to cheat on her with Victoria Newman, she ended up divorcing him, and things go uglier and uglier as the year went on. We knew this was all happening because Christel Khalil asked to be removed as a main cast member, but it's been a long while since we've seen her smiling face. The good news is that she is back and better than ever. She's not officially back yet from any announcements, but we did see the news on the social media sites owned and run by the lovely Daniel Goddard, who is a close friend of the actress in real life.
Mishael Morgan's Return
We know she's back because we've been watching her appear as Amanda, the woman who looks so much like the dead Hilary. This is haunting to Devon, who married Hilary on her deathbed only a day or so after their baby died in utero. He's been a mess, and he's been moving on with Elena. However, we all have questions about this woman and what she means to the show. Is she back to play her old role? We can't see it happening, but we can see it being something else. Will she come onto the show to mess with Devon, and does she know that she is the twin of his late wife? While we don't know this, we do know that she is the last of the major names to come back to the show after they were either dropped, left, or removed in the past year. This is big news, and we can say with certainty that she will not turn into some sort of Hilary turned Amanda because of head trauma situation. This is not at all what this is about in her world.
Brittany's Back
Lauren Woodland has been here more than there this year, and it's because she's an attorney with a long list of clients. We last saw her when she came back into the picture to represent Nick when he was in the middle of a major custody battle with his own father, but this is not the same story line. This is different. We hear that she might be here to help with the entire JT situation, but we also hear that there is a chance she might be back because of the Amanda situation. Which is it? Who will find out first? And what will happen when we all get to sit back and watch all of this unfold in the meantime? We are not going to see this situation take a totally drastic turn, but we are going to see it make a difference in her own reasons for being here, and we cannot wait.