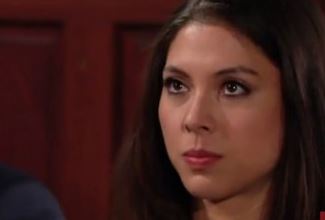 Young and the Restless fans know that Juliet is in a tough place right now. She's having issues with her pregnancy, which is the only thing keeping Cane in her life right now, and that is a problem for her. She's got to deal with that and the fact that things might not work out for them if her pregnancy doesn't work, and now she has to work on some other problems too. This week we will see the stress finally get to her. She's done a relatively good job staying away from people who are upset with her at the moment, and it's going to change.
She's going to run into Victoria, and she might just engage her in a moment of weakness. They will fight, argue, and they will make a scene. Victoria has entirely too much going on in her life right now to want to deal with this kind of drama, and she's going to school Juliet on what real power and ownership looks like.
This is not good for Juliet. Her body is already betraying her, and she has to do whatever she can to help herself. She has to keep her baby safe before she loses it, and we aren't sure she can do it. She's going to lose this baby, and it's because she's not taking care of herself the way her doctor told her to take care of herself. Where will this leave her?