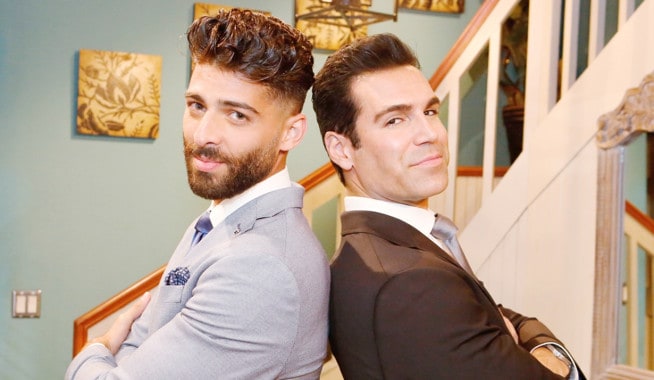 Young and the Restless fans know things happen all the time that don't seem to make sense. You might hear a rumor and not believe anything like that could happen, and then it happens. It's how things go so often around here, and it's how so many of us live our lives. We cannot decide if that's a good thing, but we know that there are some crazy rumors out there for the summer of 2019. As this summer comes to a close and fall is right around the corner, we have to ask ourselves what we can expect from the rest of the season. Are the rumors true? Is there anything that might make us believe in them? Is there any truth to what is going on and how this is all going to affect us? Is there a chance it might be more devious than we thought? So, with that in mind, here are some of the most prevalent rumors we've been hearing all summer. Are they truth? Let's find out.
Nick and Chelsea
She's been back for a while now, but she did return to Genoa City a married woman. She seems to have forgotten that about herself, of course. She's a woman who is going out of her way to make sure she is able to enjoy herself and live her best life, but she's also a new widow. She's got a lot riding on that, too. She is a woman who decided that she would live her life the way she knew how to live it, and she would really be able to handle things in the moment. She's got a lot of stuff on her mind, and she's not good at hiding that from other people. She's keeping some secrets, but we think whatever she is up to is working well for Nick. The rumor is that they will hook up this summer, and we can see that happening. It might make us wonder even more about her marriage and the sham we can see it clearly was. But, that's not much of a situation.
Billy's Mindset
He's clearly not right at the moment, and our hearts hurt for him. He is a man who is living a life that is crushing to all of us, and we get that. He's got to figure things out. He didn't know the child he lost. He didn't know the many things that happened in his life up to this point, but he's having to figure things out all while dreaming of Delia. She's sending him messages from the grave telling him to stop Adam, and we cannot figure out what this means, what it might indicate, or how they can figure things out for themselves. We are confused, we are upset, and we are not certain this is great news. However, we know that this is a situation we will probably see become much worse long before it has time to get better. We cannot help but feel so much pain for this young man, but he has to get a grip on reality. He's losing his mind, and we aren't sure anyone is able to help him in this moment. They are all looking for a way to help him, but he has to do this for himself. He can't just let himself get out of his own head. Until he does, he will never be all right again.
Victor's Sicker than He is Letting On
We know already that Nate has the power to do anything he can with the time he has left in his life, and that's all right. He's been given the green light to do anything he needs to do to help Victor get better, and that includes continuing to use this very experimental treatment on him. While he has his good days and his bad days, we think that we can expect to see a lot more bad days than good ones. We have reason to believe he will not die because of this, but we do think that he will have a hard time getting through his life without feeling worse about things in the moment. He's a man who has a lot going on, and he is not going to be happy if he is feeling unwell, but that is his future. He can't lie about how he feels when he is bedridden and miserable. That's the simple truth of the matter. He has to figure things out, and he doesn't seem to be entirely capable of that in the moment. For now, though, we might expect to see things turn out for him in a way that might work.