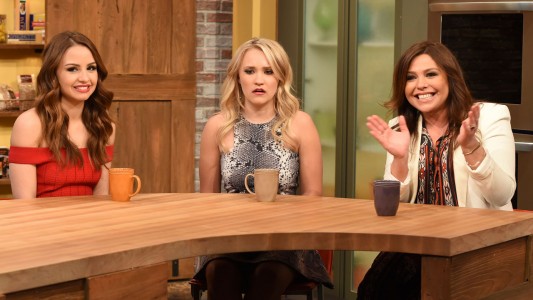 Last week on Young & Hungry, we saw not one but two budding relationships get squashed before they really had a chance. Gabi and Josh are the endgame couple but now is clearly not the time for them to be together due to his personal commitment issues. Sofia and Josh's brother Jake were just having fun before they broke up. Either way you look at it, the girls are moping about those darn Kaminski brothers.
In this sneak peek from tonight's episode, we see the roommates come up with a brilliant business idea involving Gabi's food truck: rename it the Dumped Truck and cater to the sugary indulgences that only recently dumped girls would crave.
The episode entitled "Young & Rachael Ray" actually features the girls as guests on Rachael Ray's talk show and doubles as Rachael's acting debut. It shouldn't be too much of a stretch since it appears they actually filmed on her real show's set. Judging by the distracted look on Gabi's face though, not everything will go as planned for the girls. I wonder if it has anything to do with Josh possibly getting married to his ex-girlfriend?!
Earlier this week, Freeform renewed Young & Hungry for its fourth season. Previously known as ABC Family, this marks Freeform's first series renewal under the new name.
Catch the episode tonight at 8pm before a brand new Baby Daddy.
Tell us what's wrong with this post? How could we improve it? :)
Let us improve this post!