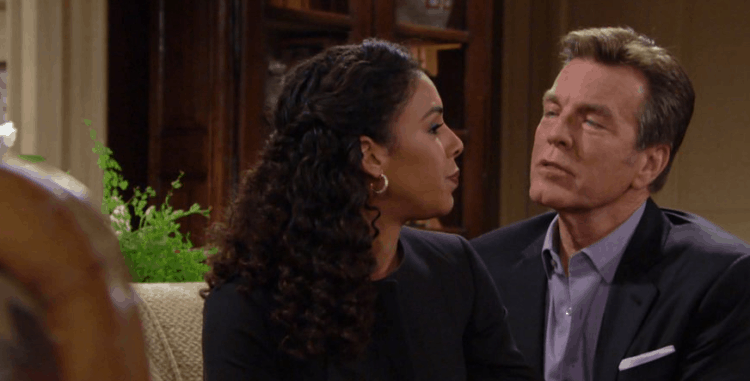 Young and the Restless fans knew all this time that Kerry was not a nice person. She's someone who is strong and very independent, but she's hard to like. Jack seems to care for her more than he should considering she's clearly not all that into him. But she is playing this game very well with him. She knows what to say and to do to get him to feel more for her than he should, and she knows that she can get him to work this out for her in a way that doesn't seem to be a problem in her life. But she's also been playing him and Phyllis all along. We still feel she has more to her story than she's made clear to us, but we also don't know that there is any other reason she's being such a mess for all of us to see.
Then there is the fact that Tessa has been arrested, which is not good for Mariah. We do think that Mariah is a good person, but she's making poor choices when it comes to this woman. It's not good for her to spend this kind of time with her, but she cannot seem to make things quit. She cannot seem to want to make her life work in any way that's good for her, but we don't know for ourselves whether or not she's in a good place, either. All we know is that we've been saying for a long time that Tessa is not good for her, and we hope that she can see that for herself at this point. But, maybe she cannot and that's not something we can see working out for her if she doesn't get with that program.
What's Happening on Young and the Restless
Do you think Rey tricked Sharon, or were his intentions sincere? #YR pic.twitter.com/EvMTJZwmzF

— Young and Restless (@YandR_CBS) March 7, 2019
We don't know, but we don't love them together, for sure.
What's Next on the Young and the Restless
https://twitter.com/YandR_CBS/status/1104743710602850305?ref_src=twsrc%5Etfw
Abby is not happy about more than one thing. Her sister and her family are going through more than a few horrible things right now. Her fiance's brother is going through some stuff right now with Sharon and the investigation and all that it implies for him. There is so much happening around here that doesn't make any sense at all, and we don't know how to fight that situation in our minds. It's a situation that doesn't always make her happy regardless, but now she's suspicious of something. Is that perhaps the fake pregnancy that Mia has managed to convince everyone she's going through at the moment? Has Abby finally realized that this woman is nothing short of a total liar? We think it might be, but we aren't sure who else will believe her.
Victor has a promise, and he's not going to break it at this point. He's a man who has something to offer the family he loves, and he will make it happen, but we just don't know how or when or what he will do to make sure it all happens for him. For now, though, we think he can do it without anything else going on in his life or his mind. Jack is looking for someone who is willing to align their interests with him, but he's struggling trying to figure out who he can trust and who he cannot trust. The latter is a list that seems a lot longer than the first. He's a man who has some issues, but he's got to figure them out.
Stay tuned for more Young and the Restless and be sure to check out TVOvermind daily for the latest Young and the Restless spoilers, news, and updates.