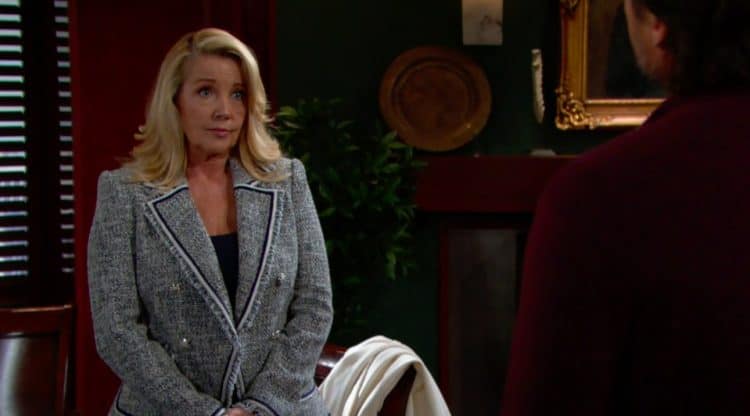 Young and the Restless fans are sure that Adam has never seemed more nervous in his life. He is terrified that he will mess up his date with Chelsea, but we are all still stuck on the part where she agreed to go on a date with him despite the fact that she is dating his brother. We cannot get past this to care what he feels about the date, but we thought it was worth mentioning in some capacity. There is so little we can do here that makes any sense to us, but this is really what we have going for us. Summer, on the other hand, is not sure what to do with Theo. She's still guarded when it comes to him, and we all know she doesn't have nearly the same feelings for him that she does for Kyle — yet here is another man who has feelings for Lola and not her. She's not happy about that, and she's not happy about his needling of her.
Amanda is being a shady you know what. She's opening up to Billy again, which is not the first time. She's already wondered if he is up for having an affair with her even though he is clearly a taken man, and she knows that she should do anything and everything she can to steer clear of the Newman family and their bad side. They have money, connections, and they have a lot of anger and upset in their lives that they are always looking to take out on others, and this is a perfect opportunity for them. They do not care for Amanda knowing that she's spending a lot more time with Billy than he's spending with their daughter, and this is something we think might turn into war.
What's Happening on Young and the Restless
Our first #MCM of the decade goes to the one and only @DougDavidsonYR! Show him some love. ❤️ #YR pic.twitter.com/S133uxz7jN

— Young and Restless (@YandR_CBS) January 6, 2020
And how could he not be, honestly?
What's Next on Young and the Restless
The word is out about Chelsea and Nick's breakup this week on #YR, and she's moving on. Make sure to tune in to see what happens! pic.twitter.com/IyQXdhpVLy

— Young and Restless (@YandR_CBS) January 5, 2020
Victor is not a happy man right now, and he's got some words for Adam. If nothing else, he knows his son and what he is capable of doing. He knows that Adam is a mess, and he knows that he will do anything and everything he can to get what he wants. He's not someone who is ever surprised by this man and what he is up to. He's not someone who is going to stop what he is doing, either. He has to make some choices. He has to make some changes. He has to get his life in order, and he has to get this situation under his own control. The warning he is issuing is a big one, and it's one that will change the game for all involved. For now, though, we have to figure out what else is going on. Devon, on the other hand, is going to go to Abby about a few things. He needs to know what is going on in his life and how to handle it, and she might have the advice he needs to get through.
Jack is going to continue to support Theo. He is family, and he is going to get to the bottom of this the best way he knows how to, but his situation is going to backfire quickly if he cannot get this situation under control. If he cannot stop what is going on and make the best of things as they are happening, he will never find that things will improve.
Stay tuned for more Young and the Restless and be sure to check out TVOvermind daily for the latest Young and the Restless spoilers, news, and updates.
Tell us what's wrong with this post? How could we improve it? :)
Let us improve this post!