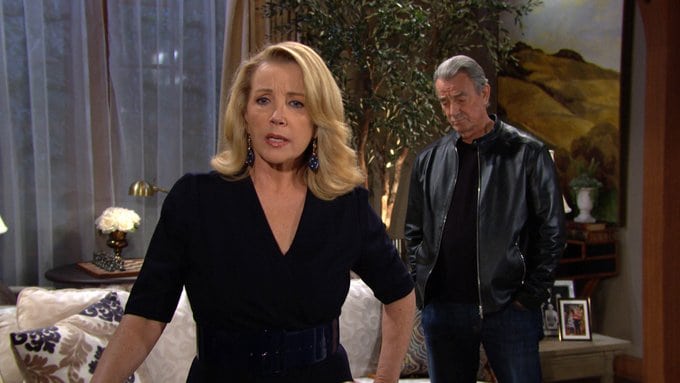 Young and the Restless fans saw a lot go down. For one, Nate and Amanda shared a kiss. They seem to be hitting it off a lot, but how does this work for anyone? What will this accomplish for any of them as they get into this further? She's not that reliable in terms of her personality and what she is looking for, and we don't know that she can handle what is coming for her. She's a mess, and we think that Nate should realize that and perhaps back off of all of this, but he does not seem to especially care how this is working out for him. Billy and Lily are trying to get the business under way and to make things right with the Chancellor situation, and we hope her calm can help him achieve that situation. He is not someone who has been in his right frame of mind in some time, so this could be a situation.
Jack and Jill have made amends, and Jack is showing that he can be a good friend to Sharon. She's struggling, and he is being there for her like a good friend would. Nick and Phyllis are getting hotter and heavier by the moment, but this does not surprise us. This is what happens every single time that they are together, and it works for them. On the other side of that is the fact that we know Nikki is having some open conversations with Victor while Adam and Chelsea are plotting behind his back, but he's aware that they are looking to take him down, which is probably why he continues to open up to his wife. We hope that this gets them where they need to go and what they need to do.
What's Happening on Young and the Restless
Who's ready to attend the #YR masquerade ball today? While you wait, @Traceybregman and Peter Bergman reminisce on their time filming this iconic episode! Leave a 👏 below if you're excited. pic.twitter.com/880EZvfBdJ

— Young and Restless (@YandR_CBS) April 17, 2020
This is so cute.
What's Next on Young and the Restless
When you need some romance, girl time, and togetherness, we've got you covered! Make sure to tune in to original episodes of #YR this week. ❤️ pic.twitter.com/Fpa2fQmi2w

— Young and Restless (@YandR_CBS) April 10, 2020
Nate and Amanda are going to find that they are growing closer than ever, which is only going to cause some issues somewhere else. For one, we think there will be some problem with Billy when he realizes just how close they are getting. He's the one who left Victoria for her, and that's a situation that we don't know he can forget. It ruined things with Victoria — his fault, of course — for nothing. We are hopeful that perhaps he can move on from this with Lily's help. Then, there is Kyle. He's not happy with Theo, still, and he's not going to sit back and allow this guy to take him down or do anything that will upset him or rock the boat. He's fighting back.
Victor has some damage control to handle, and there is going to be a bit situation that comes from it. There's a secret that no one knows, and that's not a surprise. What will be a surprise is what comes out, as the secret is going to make the Newman family reel. It must be big news, but we will believe it when we see it. We need to know, and this will come later in the week. Meanwhile, we also know that Sharon is going to look for some help from her loved ones. She needs Nick more than anyone else who is there for her right now, but she does have plenty of people there for her right now. It's something we are happy to see for her, but still hurting for her in the meantime.
Stay tuned for more Young and the Restless and be sure to check out TVOvermind daily for the latest Young and the Restless spoilers, news, and updates.