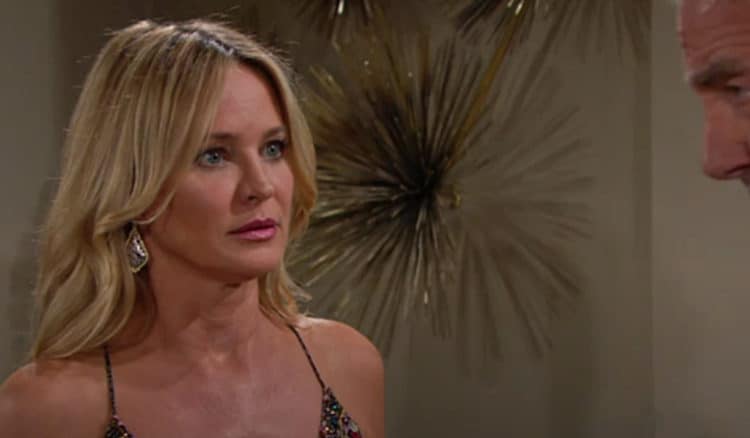 Young and the Restless fans are always wondering what might happen with Sharon. She's a woman who is never sure what she wants in her life. She always seems like is someone who wants more each time she gets what she thinks she wants. She's like a child who wants a piece of candy, and she begs and begs until she gets it. Then she has it, and she realizes that she wanted more than just one piece. She wanted another, and she's just never going to be happy with the one she got. She's miserable until she gets more, but she will do anything she can to get it, even if it means upsetting everyone in the process. She's like that with men, too. She's always with one, looking for another, and being with another. We thought we might rank her love interests from worst to best and see just how much we dislike her with certain men. Do you feel these are accurate?
Victor
What a terrible, ugly, awful situation this one was. She was married to Nick. She'd had relations with Adam, and then she moved on to their father. This was one of the most disgusting situations we ever saw on the show, and we are so glad it did not work out. She's been with just about everyone in Genoa City, and it's been so gross to watch unfold and happen in the meantime. She's been someone who cannot handle things on her own accord, that cannot make things work with anyone, and who makes decisions like being with men who were once her father-in-law and the grandfather of her children. That's gross, and we don't like it.
Rey
We like him about as much as we liked Victor with Sharon. They cannot make it work, and we cannot understand why they bother. He left her for his wife, after lying to her about things, and she cheated on him with a man she swore to him she had no feelings for. They are so beyond crazy to think that they can make this work when they cannot, and we cannot figure out why they want to bother with this. We don't see this lasting at all.
Adam
He's a mess, and he's always been a mess. They might have some serious chemistry, but they are not good for one another. We only say that because we are not sure he's good for anyone. Actually, we are not sure she's good for anyone, either. They didn't have what it took to make this work, and they will never have what it takes to make it work. Yet they cannot stay away from one another. They are like bad magnets, and they cannot get it together.
Dylan
She was very happy wit him for some time, but not happy enough to leave with him when he had to go to witness protection. We get that she had to stay with her kids because, otherwise, they'd not get to be with their actual fathers anymore, but that was something that was hard for us to watch. We did like them together, but it didn't have anything worth making happen. There was no long term situation where they could end up together forever.
Nick
We are past the point of liking them together at all, but we did like them so much when they were younger. For many years, they were the perfect couple and we could not find another couple who seemed better than they did. They seemed like they were happy together, like they were into giving it their all, and like they were a total golden couple. Of course, that all ended when they actually found themselves with other people, cheating, making things happen behind the other's back, and so much more. They weren't meant to be in that aspect of living, but they were meant to be in others. We don't want to see them together again because of all the hurt they bring to one another, but we do think that he's the best she's ever had and vice versa. It's a shame they couldn't figure that out on their own.