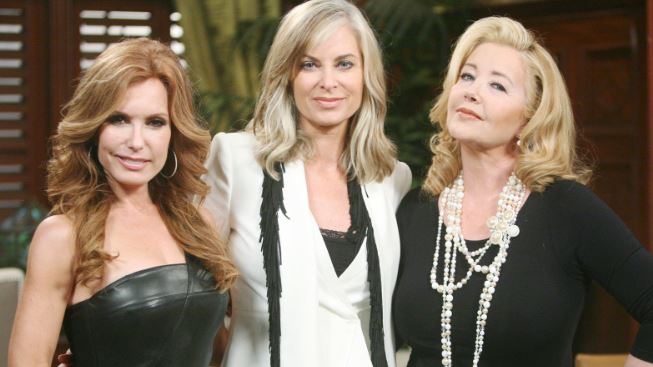 Young and the Restless fans are all done with how emotional we are all feeling. Monday was not all about Ashley, but it was really all about Ash. She said her goodbyes and she left Genoa City. It might not seem like something she's going to regret in her life, but it's something that will certainly affect us for the rest of our lives. She's taken off and leaving to make her own life seem better and more amazing, but we all know that she's not coming back and things aren't working for her with her own family. She's going to say a goodbye that she feels is good as she heads to Paris, but all we watched was an emotional farewell that didn't work out that well for all of us. We are so sad to see her go, and there is very little we can do to make our hearts change. We miss her.
It was one of the most difficult days on television for us to watch. We can barely remember what happened to anyone else, and we really just want to take this time to miss her and to be there for ourselves while she's gone. She's a character we have loved for decades, and we want to see her come back and make a big change, but we know that's not happening. We also know it's time for us to get over this and move on, but that seems a little easier to do now than it did back then. We want to get over this, so here we are putting it to rest and letting go. She's gone, we are done mourning, and we are moving on with the rest of Genoa City.
What's Happening on the Young and the Restless
Genoa City will miss Ashley Abbott, and we will miss @eileen_davidson. 😢 #YR pic.twitter.com/Ckl6naAPD2

— Young and Restless (@YandR_CBS) October 29, 2018
Remember when we said we'd be over this and never talk about it again? Well, call us liars because that's what we are. We are liars. We are seriously big, fat, ugly, disgusting liars. We cannot help it.
What's Next on the Young and the Restless
This #Halloween, we've got bags of tricks, tons of fright, and things that go bump in the night. 👻 You don't want to miss #YR this week! pic.twitter.com/TJmQEvLN78

— Young and Restless (@YandR_CBS) October 28, 2018
The Abbott family is a bit of a mess right now. But that's not something that they are strangers to. Their life is a bit of a mess in most situations, to be quite honest. We can see that some things are just meant to be as they are with so many people, and we totally get that. We get that some people are not meant to spend their lives living in families and with things that make a lot of sense, but we also hope that they can get it together. Now that Jack is back at the helm of all of this, we suspect that he can make this all right for them. We suspect that he can turn things around and make it all right, and we suspect that this might just work out in all their favors. He's putting their family back together this week, and they need that more than anything else.
And then there is the fact that Jill causes something to become a bit of a problem. The women have a plan to move the body of JT that they buried in Chancellor Park to another place so that it's not revealed after the bad news they got about the park. However, Jill's plan throws a huge wrench into what they feel is their situation — and it is not good at all. They have some big problems to deal with, and we cannot help but wonder if they can find a way to make this all work for them.
Stay tuned for more Young and the Restless and be sure to check out TVOvermind daily for the latest Young and the Restless spoilers, news, and updates.