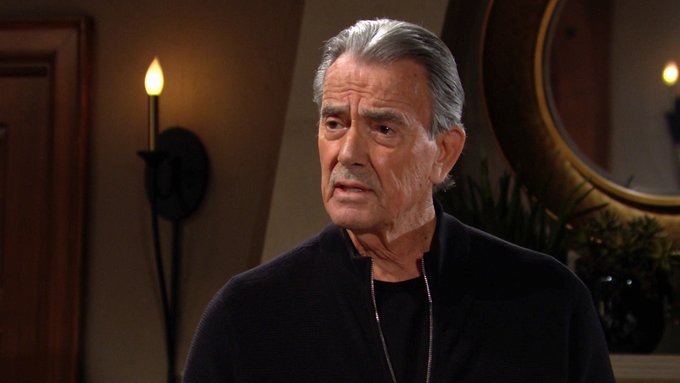 Young and the Restless fans are so upset by so many things. For one, we know that Adam took over and did some things that involved killing people and hurting people and making big mistakes. We know that Victor told him he did some killing of his own, he's responsible for a few deaths of his own, and he shared a big family secret with his wife before it came out into the open. Now, everyone is worried about the reputation of their father/their family/their business, and no one is nearly as worried about Adam and Chelsea as they should be. But, then there is the fact that Chelsea has been asked to be the godmother of a baby for her friend Chloe, the one who was actually accused of killing Adam and was forced out of town. Now she's having a baby and wants her friend to be the godmother. We are so confused by this.
But, watching the baby shower was a sweet way to go out of the week. We love that Chloe and Kevin celebrated and that they were happy with their choices and everything in between. But, we also know that many other things are taking a toll on everyone. For example, we know that there is a chance that things will work out for someone else in the long run. We know that there is nothing we can do about so many things, but we do know that Phyllis is spending time with Jack, Nick with Sharon, and Abby and Chance are all over one another as usual. They seem to be in a good place despite all that has gone on in their life, and they are taking that into the new week in a good way.
What's Happening on Young and the Restless
Sip your coffee in style with this Crimson Lights mug! Here's 20% off on us with code WFH20 https://t.co/Ce0grqlKoE #YR pic.twitter.com/AAYkqzSnEN

— Young and Restless (@YandR_CBS) April 24, 2020
We love it.
What's Next on the Young and the Restless
https://twitter.com/YandR_CBS/status/1251235229743775744?ref_src=twsrc%5Etfw
We know that this is going to be a week that might be a situation that bring sus a lot of new stuff. We don't know precisely what might happen, but we do know that there might be some answers we get at some point. We just won't get them right now. You see, the show is done for some time. There are no more new episodes, so today kicks of a theme week, which is what the show will be doing from this point on until the stars and the crew can get back to work and make dreams come true. The first theme week is all about Katherine Chancellor, which is not a problem for all of us. Honestly, we are excited to see a bit more of her and her life, and we thought we might just keep our work going with a lot of fun facts about Katherine Chancellor herself. From the actress who portrayed her, to the character, to the people who knew her, and so much more.
This is the first day of a new way of watching Young and the Restless for fans, so we are just going to sit back, relax and hope that we can all get on board with what is happening. She's got a long history on the show, and she's someone who is even alive anymore to come back. We miss her so much, and that's why we are thrilled the show is going to bring us something of her life and what she's done in the past. We miss her. We love her. We can't wait to see more of her.
Stay tuned for more Young and the Restless and be sure to check out TVOvermind daily for the latest Young and the Restless spoilers, news, and updates.