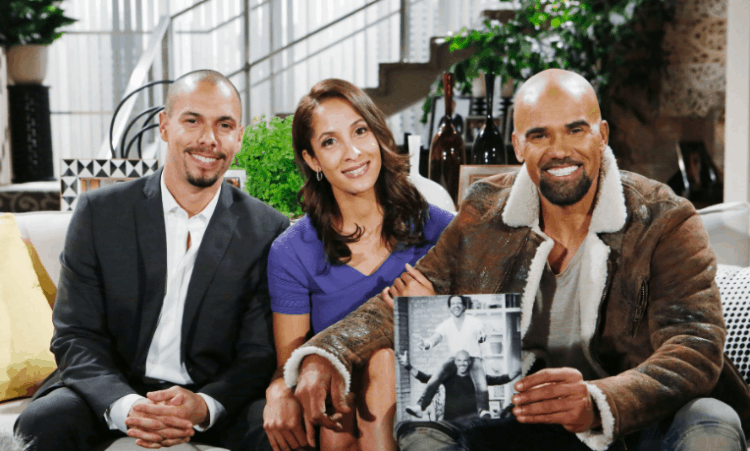 Young and the Restless fans began this week on a sad and horrible note, but it was a final goodbye that we all needed. The situation with Kristoff St. John's untimely death is one of the most tragic and horrible things to happen to these people. Saying goodbye to him already happened, but saying goodbye to his character is happening now. There is so much that will happen now that he is gone, and we cannot wait to see how everyone comes out of this in their own way as characters who loved this character. We also loved seeing the people who were here in the past and loved him then. Their own touching goodbyes to their friend and coworker, their own words, their own emotions. This was lovely. They were obviously close to this man, and they obviously miss him and cannot believe his no longer a part of their everyday life. It's all too much for all of them, and that is what makes this overwhelming.
The end has come, and the rest of the week will get back to its normal schedule as people are mean to one another, and they do horrible things to one another, and they make poor choices. There is nothing that anyone can do at this point, but we can sit back and work on that as it happens. There's a lot to make happen around here, but we don't know how to focus on that as a whole. There is something we can handle, though, and that is knowing how much people will be forever changed following this last episode. It will bring this cast together more than ever, and we think we will see some of the best performances from all of them in the near future. We think they can come back from this stronger and wiser.
What's Happening on Young and the Restless
.@ChristelAdnana joins former cast members from @YandR_CBS on "The Talk" and shares personal thoughts about her late friend Kristoff St. John, who was more like family. pic.twitter.com/C2POS0lswS

— The Talk (@TheTalkCBS) April 26, 2019
Oh. The emotion here is beyond beautiful and heartbreaking simultaneously.
What's Next on Young and the Restless
This Monday join the cast of #YR for a special tribute celebrating the life of Kristoff St. John. ❤️ pic.twitter.com/ilIhjhhaSP

— Young and Restless (@YandR_CBS) April 25, 2019
Mia is not a fan of Sharon's, and Sharon is not a fan of Mia's. They are not good friends who will do good things for one another. They are not friends. And they will not be friends. She's a mess, and she's taking down as many people as she can with her messy life. She faked a pregnancy to keep her husband, only to find out that she really is pregnant, and now she has to figure out who fathered her baby. Is it her husband who renewed his vows to her before realizing she's a lying, manipulative, horrible person? Or is it her own brother-in-law, whom she slept with again even though that's the entire reason her marriage was in a bad place in the first place? She doesn't know, and she's still going out of her way to make them both miserable. She does not know what she wants, and she's making that clear.
But, Sharon does know what she wants, and most of what she wants is to get this woman out of her life for good. She's done. She's not doing this. She's not happy with this. She's not a fan of this behavior and this type of situation. She wants this thing to go away, to make a change, and she wants to see if they can figure this out in some other manner. But, since Mia isn't looking to figure this out, Sharon is going to tell her how it will go down from this point on. She's not playing games, and we love that right now.
Stay tuned for more Young and the Restless and be sure to check out TVOvermind daily for the latest Young and the Restless spoilers, news, and updates.
Tell us what's wrong with this post? How could we improve it? :)
Let us improve this post!