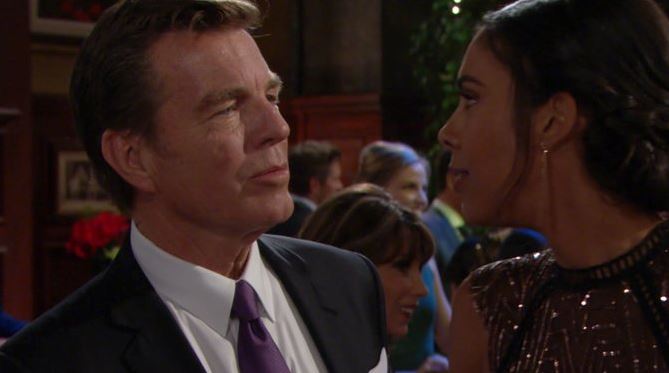 Young and the Restless fans are going to have a lot to talk about this week. Monday was a very big day with all that happened. For one, Mariah is doing something she's not all for to help her mother. She's going to do something deceptive to Tessa, and she's not happy about it. However, what she did to Tessa was necessary to help her mother. And Marian will do nothing but help her mother in every single instance if that's what it takes. She's not someone will go out of her way to make big decisions otherwise, but she will make it her mission to do anything and everything that will help her mother. And we get that. We get that she wants to be there for her mother, but what will this do when Tessa finds out about it? Because they always find out about things like this around here.
And then there was Phyllis and the big surprise she had for Nick. He's a man who will do anything he can to make his life worthwhile these days, and he's liking this new change and this new world of power that he's getting. He's changed a lot this year, and we can all say that's for sure. He's been happy to deceive his own family, the people in his life, and all that will go down in his life. But he's liking this power couple situation he's got going on with Phyllis right now. They are having the time of their lives, and they do not seem at all upset about that. But that's what we love about them. They are a hot mess with so many life issues to work with. And it works for us, so we kind of like them together again.
What's Happening on the Young and the Restless
Take a close up look at what they wore to celebrate the launch of the Jaboutiques. 📸 #YR pic.twitter.com/hOV4Lea2gz

— Young and Restless (@YandR_CBS) November 16, 2018
We all know that we all love some behind the scenes information, and this is no different. Take a look at these great pictures from Jabot, and enjoy your time with your favorite people. It's worth it on this week when we all know you are mentally checked out and ready to move on with your life.
What's Next on the Young and the Restless
Abby struggles with Arturo's past today on #YR. pic.twitter.com/S1J5GEnaGL

— Young and Restless (@YandR_CBS) November 19, 2018
Sharon has some questions, and they are for Rey. She needs to know more about Mia and why she is here, what she wants, and what happened between them. She's not taking his blasé answers as word. She's going to get to the bottom of all of this and make it her point to get to know what is happening around them, and she wants to know right now. And if Rey is smart, he will be honest with her. If there is anything that Sharon is not going to deal with right now, it's a lack of honesty after all that just happened to her in her life. She's not having anything to do with that at all. She's been through too much to deal with any of this, and she's not making any sort of apologies for that kind of behavior.
And then there is a chance that Victoria will get caught in the middle of something that will make things really bad for her. She's taking action, and we all know what she's taking action for and against. She's had a lot of problems with all that is happening with her problem with her ex, and she's caught doing what she needs to do. She's not going to be very happy about it, and she's going to have a very long road in trying to deal with things as they are happening in her life. She's got to talk her way out of this one, but we think that this will make things worse for her.
Stay tuned for more Young and the Restless and be sure to check out TVOvermind daily for the latest Young and the Restless spoilers, news, and updates.