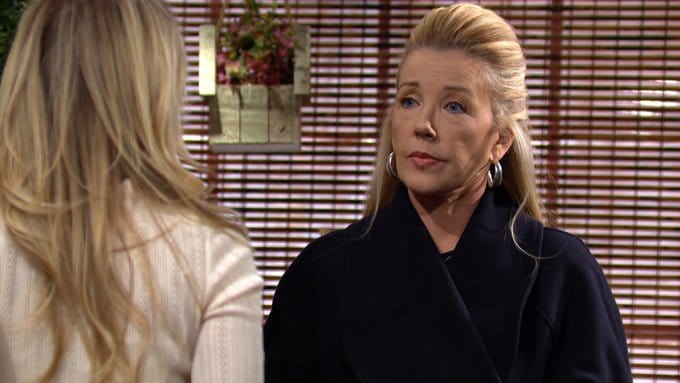 Young and the Restless fans know Jill will always make the decision she feels is the best one. She will always do what she can to do things her own way, she will always be there for her family, but she will not stand by and allow her son to do what he's been doing. She's going to surprise him with something, and we think that Billy's surprise is genuine. She's got some things to handle, some plans she's making on her own, and she's going to do what she can to use these things to help him out and give him a reason to be a good person. She knows he is struggling and that Amanda is not helping him at all, and she's done with the games and the problems that are being caused right now. She's not having this at all — and we know she will not make this situation better for him.
Then there are people like Nick and Phyllis who are just no good at living their lives the way that they need to. They are always out to work their own agendas, but they are also always willing to sleep together when they make this happen. They might not be able to stand one another in real life, but they will always find their way into the bedroom no matter what else is going on. They seem to find that kind of animosity something that makes them very happy, and they find their time together. Is this one of the times that they will end up back together for a serious relationship, or will they continue to do things behind the scenes while also living their own lives and ignoring what is going on between them? You never know with them, to be honest.
What's Happening on Young and the Restless
Getting ready to watch #YR like… pic.twitter.com/tAebgJaBwK

— Young and Restless (@YandR_CBS) March 6, 2020
It's that Friday feeling.
What's Next on Young and the Restless
This week on #YR, Billy and Amanda explore their relationship while Adam fights for the Newman Enterprises CEO chair. Don't miss it! pic.twitter.com/G5V0glppL3

— Young and Restless (@YandR_CBS) March 8, 2020
Nikki is a mother who has more than a few concerns in her life. For one, her daughter is not herself right now. She's been in a horrible situation for a while now, and she's not getting the most of that in her life. She's currently unwell when it applies to her life and all that happens, and she's also having some difficulties focusing. She's making decisions her mother is a little worried about, and she simply does not seem like herself. This means Nikki is worried, and we think she is right to be worried about her right now. There's a lot happening, a lot going on, and there seems to be a lot she's not handling all that well. She's going to worry, of course, but this is a lot.
Phyllis has a thing for Chance, but he is clearly spending his time with Abby. She's about to take a hard line with him, and that might not go over well. What does this even mean? What is her plan? How will she handle this? Will she make this situation worse than it is, or will she be able to get what she wants? We think she is trying to take a line in which she's making changes that might make him notice her, and by being unavailable to him, she's changing the game in a way that doesn't seem to have any issues at all. We don't know if this is true, but we do know that this is a situation we cannot control as well as she can.
Stay tuned for more Young and the Restless and be sure to check out TVOvermind daily for the latest Young and the Restless spoilers, news, and updates.
Tell us what's wrong with this post? How could we improve it? :)
Let us improve this post!